A consortium of UK nuclear specialists is to receive funding to research the technologies that could pave the way for a new generation of reactors.
Details of the Keeping the Nuclear Option Open (KNOO) project emerged days after the Nuclear Decommissioning Authority (NDA) unveiled its draft proposals for dealing with the UK's existing network of ageing reactors.
KNOO, led by London's Imperial College, will receive £6m from the EPSRC to research technologies that will be key to any new-build reactors, with a focus on areas including fuels, materials science and waste management.
Robin Grimes, principal investigator on the project and professor of material physics at Imperial College, said KNOO aims to engender a flexible approach to nuclear engineering. He is studying the development of materials that would be needed in new reactors, including those that could be used in sensors able to survive in such extreme conditions.
Nuclear sensors have to stand up to intense heat and radiation, and the properties of the metals used can degrade over time. Grimes said: 'Once we know how materials degrade we can start to engineer around any problems. This project will hopefully offer more flexibility and optimise materials selection for the future.'
Bill Lee, incoming head of the material physics department at Imperial, will work on the waste management component of the project. This will focus on which systems are most suitable for storing different kinds of radioactive waste. The team will use computer modelling to predict the interaction of different radioactive particles with the materials in which they are encased for long-term storage.
KNOO and its focus on the future come at a crucial time for the UK nuclear industry, with the NDA calling for accelerated clean-up of reactors and a swift resolution to the waste management issue. It also highlighted the need for a strong base of skilled nuclear researchers.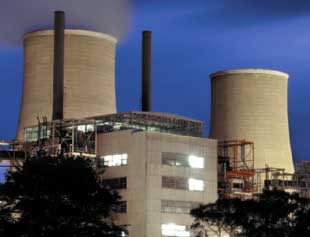 According to the NDA's draft strategy, by 2025 all Magnox reactors should be decommissioned and a long-term solution for the storage of Intermediate Level Waste (ILW) should be in place.
The NDA said that the government needed to reach an 'early decision' on the recommendations of CoRWM, the body looking into the UK's waste management options, when it reports next year. Dealing with the existing legacy is widely viewed as a prerequisite for gaining public support for any future nuclear energy strategy.
But, according to Tim McEwen, a nuclear specialist at Safety Assessment Management, the 2025 target is highly ambitious. 'One only has to hope that the government is aware of the urgency of the need to find a solution for the waste problem,' he said. 'The whole process of building a longterm repository for waste will take up to 80 years if the situation in Finland is anything to go by. You have to find a site first, which takes a long time — maybe even 20 years — and that's before you even start building.'
According to Grimes, it may prove difficult to pin down a single long-term management strategy. In his view the difficult issue for decommissioning engineers will be second-guessing what form future nuclear waste will take.
'We don't know what reactors we will be building in 2012-2015, and we will have to build new reactors if we go down the nuclear route. Any decision that is made regarding long-term storage of ILW has to keep one eye on what it is we will have to be dealing with by 2012 and beyond in terms of conventional reactor waste,' said Grimes.
'These things are all horribly interconnected. Conditions are going to change dependent on what the government decides, so we are all just waiting for the CoRWM report.'