The building you are in has collapsed. Trapped in a small gap beneath tonnes of unstable rubble, with the smell of gas getting stronger by the minute, there seems little chance that anyone will find you in time.
But as you lie immobilised, a mechanical serpent, attracted by the CO2 in your breath and the heat from your body, wriggles towards you through gaps too small and dangerous for humans. As you breathe the oxygen brought by your unusual rescuer, your precise location is beamed to a team of human emergency workers who, spurred on by the knowledge that you're alive, can begin to dig their way through to you.
This is not a futuristic dream. While the world's media marvels at the latest trumpet-playing bipeds from Japan, a new breed of distinctly non-humanoid robots that crawl, burrow, slither, climb and swim are poised to play an increasing role in emergency search-and-rescue operations.
This summer, in a demonstration of the latest advances in this field, experts from around the world will gather in Osaka, Japan, for a search-and-rescue robot competition at RoboCup, an annual event to further artificial intelligence knowledge and expertise. They will pit their creations against each other in a series of scenarios in which robots will navigate their way around simulated disaster zones and search for victims.
The engineering challenges presented by rescue robots are extreme and distinct. While entertainment bipeds such as Honda's Asimo elicit gasps of amazement by walking a pre-planned course up a gentle slope, search-and-rescue robots have to enter unpredictable and dangerous environments. Vision, communication and locomotion systems are all stretched to the limit by the smoke, dust, fire and utter confusion of a disaster zone.
There are typically four main tasks for rescuers when they reach a building hit by a disaster — all of which, according to Geoff Pegman, managing director of advanced robotics specialist RU Robots, could be carried out by robots.
The first is to make the building safe. 'This means going in, shoring it up, and making sure it's not going to collapse on the rescuers,' explained Pegman. He said that while robots aren't currently used to do this, the job could be carried out by a large robotised construction vehicle.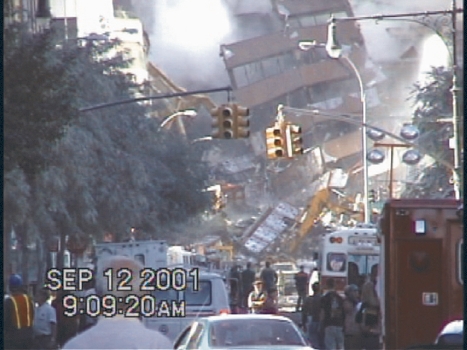 The next task is to search for survivors. Dogs are still the preferred option, but they can only search for short periods at a time and other work must stop to prevent them from being distracted. Dogs are also unable to go down small access holes. This is where small robots equipped with sensors for finding signs of life could be particularly useful, said Pegman.
Having found someone still alive, the immediate task is to get them water and a means of communicating with the surface, a task that could be carried out by small crawling or snake-like robots, he said.
Finally, the survivor must be evacuated. Lifting lumps of concrete from fragile bodies is a task that's probably still more suited to specially trained humans, but robots could be used to assist with very heavy pieces of rubble, said Pegman.
While disaster environments call, on the whole, for non-humanoid robots there many be occasions where humanoid features are an advantage. Rich Walker, technical director of the UK's Shadow Robot Company, said its robot hand (pictured front cover) could be applied to a rescue robot and used as a dexterous 'end-effector'.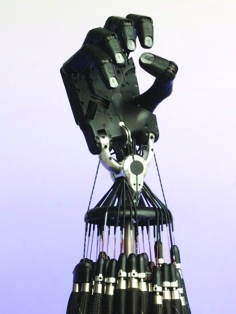 Although many of these scenarios are still untested, rescue robots have already been used in the field, however, perhaps most notably by the University of South Florida's Centre for Robot-Assisted Search and Rescue (CRASAR).
As well as being a focused academic project, CRASAR also happens to be the only rescue robot response team in the world. Within six hours of the 2001 World Trade Centre attacks a team from CRASAR had arrived at the site to assist in the search-and-rescue effort with an assortment of tracked and tethered remotely operated vehicles (ROVs). This was the first known use of robots for urban search and rescue.
While the robots found little apart from charred human remains, they provided both CRASAR and the emergency services with a clear view of the limitations and capabilities of the current technology. 'Rescue workers usually use dogs and cameras mounted on poles to look for survivors — but while these cameras typically only penetrated up to 18ft at the World Trade Centre and then melted, our robots were able to go 60ft into rubble that was still on fire,' said CRASAR director Prof Robin Murphy.
Perhaps one of the most promising issues for the future deployment of search-and-rescue robots was the fact that the robots didn't get in the way. According to Murphy, they were accepted by a diverse rescue community that was stretched to its limits in the chaotic aftermath of September 11.
However, one of the technical problems still to be resolved with rescue robots is finding a way of providing them with power and communications that don't hamper their performance. According to Geoff Pegman, the use of a tether or umbilical cord is far from ideal. When a robot is twisting and turning through rubble the weight of the cable dragging behind and getting snagged on lumps of concrete can become too much for the device — a problem encountered by the CRASAR team on September 11.
One possible solution is being worked on at the University of New South Wales in Sydney, Australia, where a team led by Prof Claude Sammut is looking to remove humans entirely from the loop by developing autonomous rescue robots.
The researchers have several prototypes under development that they aim to test at this summer's RoboCup rescue competition. 'One of the reasons we want to push autonomous robots is that communications are one of the first things you lose in a disaster,' said Sammut. This has been the reason, he believes, why tele-operated robots such as those used by CRASAR have met with limited success.
Sammut's team uses a robot platform similar to those deployed by Murphy's team, to which it has added a variety of sensors including a stereo camera and a solid-state 3D camera. They are also giving the robot a degree of route-finding expertise by adapting simultaneous localisation and mapping (SLAM) algorithms to work alongside the 3D camera. This will enable the robot to make its own map of a site and locate itself within the map, he said. His team is also investigating the use of a range of other sensors for detecting victims and placing them in the map.
Meanwhile, Bristol company OC Robotics has developed a snake-arm robot that it claims could have applications in search and rescue. Snake robots are particularly useful in rubble-strewn environments, where wheeled vehicles can often encounter insurmountable obstacles. 'There are many advantages to having a snake arm rather than an ROV. When ROVs were used at the World Trade Centre they tended to get lost,' said OC's managing director Rob Buckingham.
OC's robot consists of a number of independent segments that can be controlled in a co-ordinated way, enabling a user to guide the snake so that the body follows the head's exact path.
The company has mainly focused on military applications, most recently working with the MoD to put a snake-like arm on an ROV for use in bomb-disposal operations. But Buckingham said that many of the challenges faced in military applications are the same for search and rescue. 'We're currently working on exploring cars for bomb disposal. If you can do this you can explore a pile of rubble — there's quite a lot of overlap between the fields,' he said.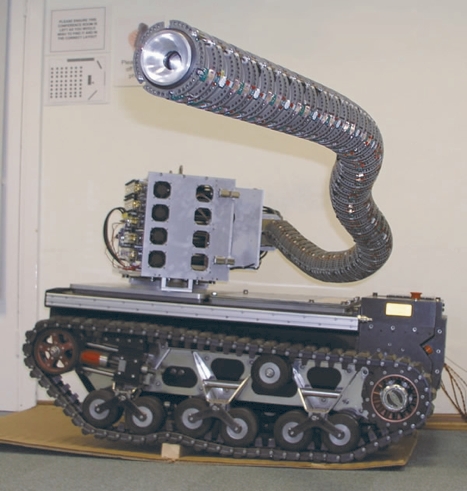 Buckingham added that, with very little funding made available for search-and-rescue robots, many of the most significant developments are driven by military expediency and the safety requirements of the oil and nuclear industry, where use of robots can help minimise the risk to humans.
For instance, OC is also working with the nuclear industry on the development of long snake-arms for underwater use. Buckingham said that similar devices could be used to explore rubble. 'We're also very interested in using a snake arm robot to search for people in avalanches' he added.
Elsewhere in the UK, engineers at the Ocean Systems Laboratory at Heriot-Watt University in Edinburgh are leading the development of Autonomous Underwater Vehicles (AUVs). Prof David Lane, who heads the laboratory, said that while much of his group's technology is developed for use by the military and oil industry, the challenges of these applications are equally relevant to search and rescue.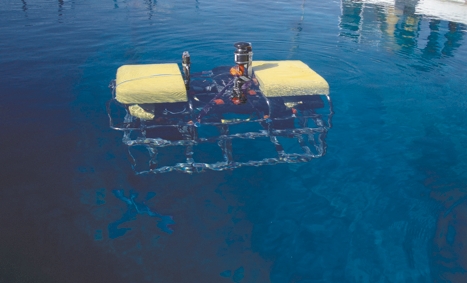 The communication and power problems posed by the underwater environment have driven the development of some impressive robot intelligence, according to Lane. 'Radio waves don't propagate under water. You don't have GPS or the ability to send a TV picture through the water. You can get some data through acoustic communications, but you can't receive a huge volume of information per second,' he said.
In a typical search using the lab's Rauver AUV the human's role is minimal. Lane said that the AUV can be programmed to fly up and down in a 'lawnmower pattern' using onboard processing and sonar to recognise potential targets. When it spots one it will then peel off from the lawnmower pattern, take a more detailed video of the target and send a clip of this video to the surface using an acoustic modem.
Dr Kelvin Hamilton, robotics development manager at the laboratory's commercial spin-out company Seebyte, said that the group is occasionally approached by Strathclyde police to help locate bodies in muddy lochs. While the police have so far used more conventional sonar technology coupled with an underwater ROV, Hamilton said he expected the AUV technology to be attractive to them in the future.
But while military and offshore industry considerations are strong drivers in this field, Japan is an equally influential voice. A combination of the country's love affair with robotics and its first-hand experience of the destruction caused by earthquakes have perhaps made it such a fertile climate for search-and-rescue robots. Japan's institutes and universities are awash with fascinating projects.
Visitors to the recent Security Show 2005 in Tokyo were shown a tiny mobile search-and-rescue robot that can deploy a camera pod to help look for victims trapped in rubble. Developed at the Tokyo Institute of Technology, the robot has a pair of wheels and a pneumatic cylinder that it can use to push itself off the ground to leap over obstacles.
At the opposite end of the size spectrum, Japanese company Tmsuk recently unveiled a five-tonne 3.5m-high tele-operated robot for clearing away rubble at disaster sites. The hydraulically powered T-52 Enryu is equipped with two arms ending in pincers that can grasp and remove obstacles to help rescuers reach people trapped under rubble.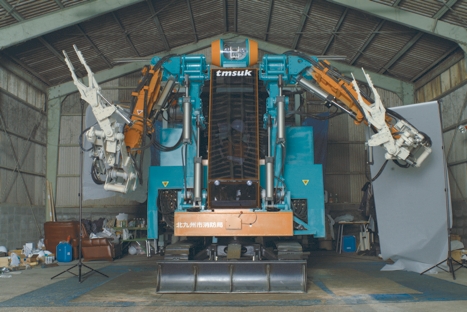 But while such engineering developments are impressive, the real test for all this technology is how it is accepted by the emergency services. Geoff Williams, deputy firemaster of the Central Scotland Fire Brigade and president of crisis management body the International Emergency Technical Response institute (iETRi), believes that robots have a valuable role to play in rescue missions.
Williams has worked closely with Murphy's CRASAR team and, having seen rescue robots in action, he knows what they can do. But crucially he has a broad view that many robotics experts lack. For him the really significant possibilities for search and rescue lie in linking robots with wider crisis-management systems.
He pointed to the development of a system at California's Environmental Service Research Institute (ESRI) in which a building considered to be at risk could be equipped with sensors on all its supporting members.
In the event of a disaster, the positions of these sensors after the building has fallen could be compared to their original positions and used to construct a clear picture of how the building has behaved during collapse. Williams said that in a busy structure such as an airport, this knowledge could then be combined with demographic data indicating where people were likely to be at the time of the attack, to build up a picture of where they might be in the rubble. Rescue robots could then be linked into the system and guided precisely to these locations.
Williams is looking to start up an international reconnaissance group with CRASAR that would begin exploring the effectiveness of such systems in real disasters.
'Robots are a great tool to have in your arsenal,' said Williams, but he ruled out the likelihood of them rendering the human emergency services obsolete.
This, he said, is partly because the environment in which they work is so unpredictable but also because the human touch and the voice of a rescuer are so often key to saving someone's life.
'Having said that, I'm sure that in 1,000 years there'll be something so technologically advanced and friendly that you'll want to take it out for a drink,' he joked.