Just as in the early days of solar and wind energy, there are some heady claims being thrown around about the potential generating capacity of waves.
It has been estimated that in the UK there is 50-90 terawatt-hours of 'technically and economically recoverable' energy per year — 14-26 per cent of current demand.
Of course, as the other two aforementioned industries have found out, it's one thing having the resource and another being able to exploit it and overcome the countless market and technical hurdles. And waves are particularly tricky beasts to tame, characterised by very high energy densities but slow velocities.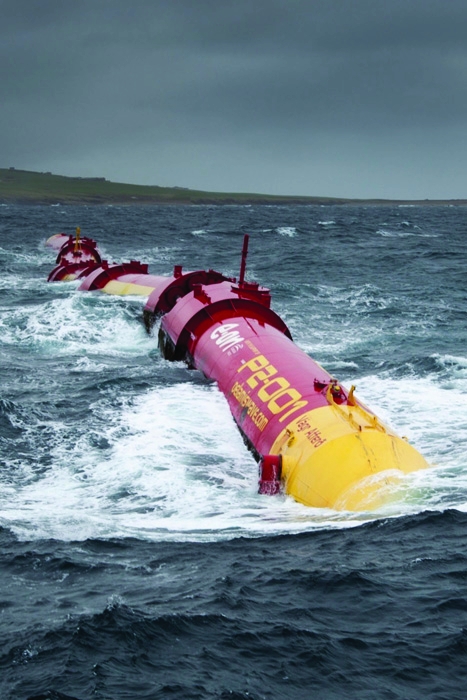 This has meant that a range of very different capture technologies have cropped up, from the elegant to the downright wacky.
Through this clamour, Pelamis Wave Power has emerged as a leader in the UK market. Formed in 1998, it made the first commercial-scale wave energy converter to generate electricity to the national grid from offshore in 2004.
With half a dozen demonstrators in operation or planning and contracts in place with major utilities, the company is now looking to make the transition to full commercial phase with significant levels of installed capacity.
'The important thing for us is to get competitive with wind power — particularly offshore wind — quickly, and we think we have a technological track to do that,' said Ross Henderson, technical director at Pelamis.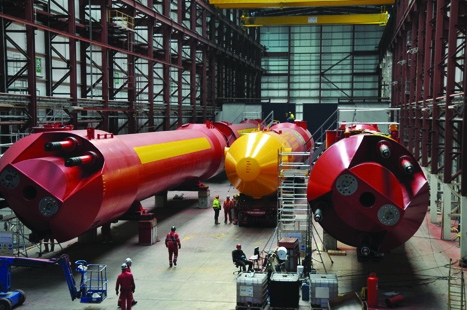 The Pelamis device is a line absorber — essentially a tube some 120m long and 3.5m in diameter comprised of five sections linked by universal joints that allow flexing in two directions. The machine floats semi-submerged on the surface of the water and faces into the direction of the waves. As waves pass down the length of the machine and the sections bend in the water, the movement is converted into electricity via hydraulic power take-off systems housed inside each joint of the machine tubes, and power is transmitted to shore using subsea cables and equipment.
The important thing for us is to get competitive with offshore wind power quickly
The machine operates in water depths greater than 50m and is typically installed 2-10km from the coast. It is rated at 750kW with a target capacity factor of 25-40 per cent, depending on the conditions at the chosen project site.
'Waves are characterised by very high forces at slow speed and that's the reason why we use hydraulics in our power take-off system.
Because the energy comes in waves, it's going up to the megawatt level, back down to zero, and back up to megawatt level every few seconds — you have to be able to smooth that out to make sure you can provide smooth electricity output to the grid. With hydraulic systems you can do that quite cost effectively. It's a little bit like a big JCB being run backwards, so the waves are driving the hydraulic cylinder that creates pressure that spins a motor,' Henderson said.
Pelamis has 30MW in active planning with utilities in the period up to 2017, Henderson believes
Notable projects now in operation include a facility off the west coast of Orkney at the European Marine Energy Centre (EMEC), in which a single P2 Pelamis machine, now owned by E.ON, is being tested for a three-year period. Taking E.ON's lead, ScottishPower Renewables has bought another machine, which will begin operation at the EMEC site very soon.
'They are commercial demonstration machines and that's about the utility customers fully engaging and getting that early understanding of the technology, trying to get the technology lead,' Henderson said.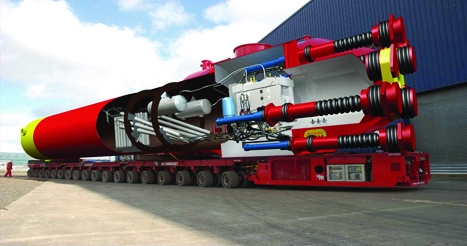 In development is a project with Vattenfall, one of Europe's largest utilities, for a 10MW facility off the Shetland Islands with up to 14 P2 machines in array.
Indeed, Henderson believes Pelamis has 30MW in active planning with utilities in the period up to 2017.
'That's an order pipeline in the region of £150m-£200m in the next three years; what we need is a strategic partner to come in and help us make those machines,' Henderson said.
The company is currently in consultation with professional service company Ernst and Young to find such a suitable long-term partner. As a venture capital-backed company, Pelamis would like to feel more comfortable about accepting and successfully fulfilling those big-figure orders.
Currently the company designs, partly manufactures and assembles its machines on a site at Leith Docks, Edinburgh. 'Something like 60 per cent of our capital expenditure is spent in Scotland and all the tool fabrication is done in Scotland, so by value it's very much a local supply chain that's being built up here to do this job. We know we have the capacity here to very quickly ramp up to tens of machines a year and ultimately hundreds of machines.
'That's the industry we are looking to create here and it's a new industry — that's what is so exciting about it.'
Q&A
The UK has an extensive, often turbulent coastline; surely there's room for more than one wave-capture technology solution?
Personally I think it's unlikely that there will be a wide variety of wave energy technologies. It's not been the case in other energy technologies. We firmly believe that a line absorber is the right concept.
Wave energy absorption capability is quantified in terms of something called 'capture width', which is the width of wave front over which you absorb all of the energy, and we know from fundamental physics the ultimate limits of different types of wave energy converters. By taking the volume of steel or whatever material you've got, and spreading it out in a line — responding to the wave down-length — it's possible to get a higher capture width than with other concepts such as heaving buoys or surging flaps. But offshore wind energy is now gathering pace. Why not focus solely on the more mature technology? We have a plug-and-play system for taking the machine on and off its mooring and we can do that over a wide enough range of conditions that it's possible to maintain the machine throughout the year. This would be a problem for anything on the sea bed — even offshore wind. Getting access to the machines to do any kind of repair is a critical problem to be solved and we've come at it from another direction. You don't bring the garage to your car and try and repair it on the side of the road; you take your car to the garage where you have got the tools and the skills to do it safely. We've taken the same approach to wave power.
But it is also a complementary supply to wind and other renewables — it's not exactlyin phase with the wind, as the waves tend to keep going after the wind stops.
What would you like to see done to support offshore wave energy? It must be recognised that these new energy technologies are a huge economic opportunity; they're not a burden that we need to bear. You only have to look at how we gave away a global manufacturing industry when our technical lead in wind power wasn't properly supported in the 1980s and 1990s and we're at a similar crossroads now with wave and tidal. We need support to pull the technology into the market, with supported tariffs for early projects. It's a relatively small investment compared with the opportunity. Pelamis alone has pulled in more investment than we've received in government grants that's going into the supply chain.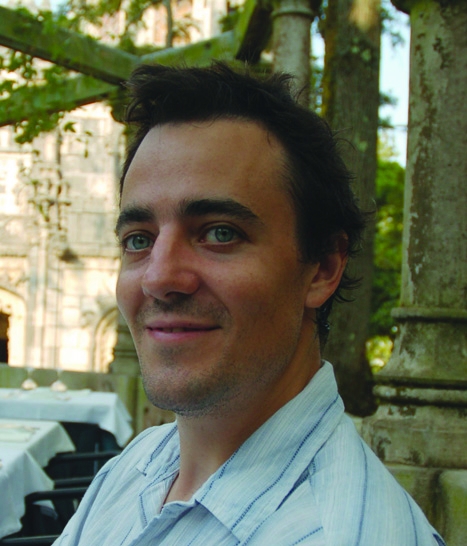 Ross Henderson

Technology director, Pelamis Wave Power
Education
2000 MEng in mechanical engineering, University of Edinburgh

Career
1998 Placement with Edinburgh University wave power group, working for Prof Stephen Salter on variable pitch turbine project
1999 MEng industrial placement with Pelamis Wave Power, including construction of first prototype of power take-off system and scale models
2000 Joined Pelamis Wave Power as graduate design engineer
2003 Control and systems engineer; delivered first offshore wave energy to UK grid from prototype Pelamis
2005 Engineering manager (R&D)
2008 Led intensive 18-month redesign of all elements of Pelamis, leading to P2 and contracts with E.ON and ScottishPower Renewables
2011 Technical director, Pelamis Wave Power. directing strategy and development projects for the next generation of Pelamis