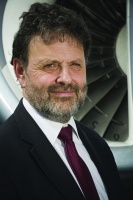 The Farnborough Air Show – a week-long procession of multi-million-pound contracts, new technologies and corporate might – somehow doesn't seem the right place to chat about austerity.
But, as the luxury jets thundered overhead, BAE's engineering director for military aerospace, Simon Howison, was pretty clear on his sector's number-one priority. 'The biggest driver,' he said, 'is taking the cost out all the way through. How do you do the concept stuff better? How do you do the engineering better? How do you manufacture it better and how do you operate it at lower cost?'
I'm always an optimist who says out of change comes opportunity
As engineering leader and design-approval signatory for, among others, Eurofighter, Typhoon, Tornado and Nimrod, there's a good argument for Howison being the most important figure in the UK's military-aerospace sector. And, with the defence spending review looming large and speculation mounting that the MoD will have to make some tough decisions on its military-aircraft capability, he's conscious that the way in which his group responds to the challenges ahead could have a profound impact on the UK's future capabilities. 'It's clear there's a difficult environment and it's going to have some impact in terms of what happens, and there will be some downsides,' he said. 'But I also think there will be some upsides because there will be a clear focus as to what is important to the customer. It will change things, but I'm always an optimist who says out of change comes opportunity – and we may well find some opportunities out of all this.'
So what does this emphasis on cost reduction mean for performance? Clearly, while some industries are able to sacrifice performance in order to bring down the bottom line, there's no such room for manoeuvre in military aerospace. '[In F1] they could save a lot on tyres if they just went round the corners a bit slower and if they'd got lower-octane fuel – but they'd never win a race,' said Howison. 'That's a big driver in the military because, in the end, you need to succeed, whereas in the commercial world you do at least have the ability to balance it more.'
This challenge is brought into particularly stark focus when looking at energy management. With energy costs currently accounting for around 15 per cent of the UK's annual defence budget, a more efficient use of energy will be at the heart of reducing defence costs, but it is, said Howison, a tricky balancing act. 'I think there's quite a lot of learning yet to come into engineering of how you make that trade-off. It's not something that people are taught to do at university: how to trade off energy consumption against performance.'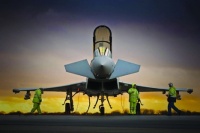 In some cases, of course, an improved approach to energy management can lead to direct performance improvements. For instance, BAE is currently working with the University of Central Lancashire on a range of energy-management issues, including systems that the could enable unmanned air vehicles ( UAVs) to stay in the air longer.
UAVs are a growing area for the firm (see box) and a key driver for technology development. However, despite the stealthy aerodynamic shape of vehicles such as Taranis (BAE's unmanned combat air vehicle [UCAV] prototype), the biggest advances often come not from great leaps in engine design or aerodynamics but from finding a way to integrate and manage ever-more on-board systems. 'People want better radar systems, they want better sensor technology and they want it better integrated,' he explained.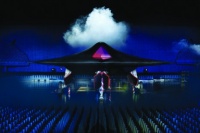 Howison's own career path is a neat reflection of these shifting priorities. Starting out as an electronics engineer, he went to work for Smiths on airborne computer systems at a time when real-time digital computer systems were just getting onto aircraft. This took him into systems engineering and when he joined British Aerospace, he did so as a systems engineer. 'I was the first chief engineer in the company that didn't have a degree in aeronautical engineering,' he said. 'If you look now at my engineers, I only have one with a degree in aeronautical engineering and the rest are all system guys.'
But while the key areas of development may have changed, the pace of technology development is as fast as ever – something that Howison believes is critical for the UK's future in the sector. 'You've got to invest in technology,' he said. 'Investing in a product doesn't create a market. Once someone's decided they want something, if you don't have the technology you just take yourself out of the market. That's always the problem – what technologies do I need to stay in the competition?'
Simon Howison biography
Engineering director, Military Air Solutions, BAE Systems
Education
1973 Electrical and Electronic Engineering, University of Bath
Career
1973 Design engineer on real-time computer systems for Smiths. Made responsible for Smiths' avionic systems equipment on the Hawk and Harrier programmes
1984 Joined British Aerospace as assistant head of avionics. Chief engineer on the Harrier programme and the Tornado. Responsible for the design, development and clearance of a major upgrade to the ground-attack version of the Tornado strike aircraft
2007 Appointed engineering director of the BAE Systems Military Air Solutions Business. Responsible for the design, development, manufacture and support of the company's range of military aircraft. These include the Eurofighter Typhoon, Harrier, Tornado, Hawk, Nimrod, and F-35 Lightning II and Unmanned Aircraft Systems, including Herti, Mantis and Taranis
Q&A Need for UAV

How important is your UAV business?
What does it do to us in terms of profit? Nothing – it's Typhoon, F35, Harrier and Tornado support that pays the salaries. But if you look at it in engineering terms, it's dramatically important to us. In terms of our front-end design, our concept work, all the initial systems design – the only place I have to keep those skills alive is in the UAV business. In order to keep an indigenous UK engineering capability that can actually design an aircraft, I need the UAV business. Otherwise I'm just going to gradually lose the skills it's essential to keep – not only so you can do another aircraft but to maintain the support of things such as Typhoon.
Where does Taranis fit in?
Taranis is really important to us in terms of technology pull-through and has given us an opportunity to demonstrate and integrate a lot of those discrete technologies. We've managed to integrate them on a vehicle of pretty sophisticated shape with some very difficult manufacturing techniques underneath. We managed to bring all that together and get a control system that, under wind-tunnel testing and simulation, appears capable of controlling it. Next year we'll get to our first flight.
How important is long endurance?
Long endurance will be key on things such as Taranis, where people want deep penetration. A key thing there is the engine technology and there's not a great range of engines available off the shelf that are designed for UAVs, so you end up sizing your UAV around the existing engine – not a great way to operate.
Could airships get around this problem?
The question with airships is 'can you get one that has a sensible payload but isn't a ridiculous size?' A huge airship [isn't] what you're going to want if you need a mobile reconnaissance unit – it's rather a large target for someone with a surface-to-air missile (SAM) and requires a lot of people to handle it. It's more a vehicle that will work in security-type applications. We gently spend a bit of time and money on it but we don't have a route for a product to market.
What's the biggest UAV technology challenge?
We've gone down a route with autonomy where the vehicle gets itself off, does the mission, comes back and lands – all on its own. But that's only the start, as you're only operating like that in controlled airspace. The big issue is 'when can you actually start operating vehicles like that in airspace that has other people flying around?' UAVs have the manoeuvrability and aerodynamic performance, but there are issues about how the vehicle will decide where to put itself and how to deal with everything else around it. You've got to make a system that will detect them and make the right decision, and get to a point where you can guarantee the system will do that. We're in the joint UK ASTRAEA programme, which is looking at how a UAV will operate in normal airspace. It's got a long way to go, but if the UK does well we'd have a leading edge because nobody really knows how to deal with it yet.