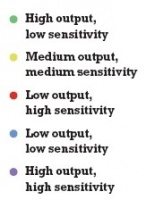 'Politics is a big issue,' said Harris. 'I used to live in London; I've now moved to a rural village community and boy do the village politics make that lot in Westminster look like amateurs.' What makes it even more difficult, he claims, is that while the FIT is clear, the operating standards to qualify for the schemes are not. 'This is a small industry and every system is bespoke so any standards written have to be wide enough to cater for that but unlike 10 years ago there is now a big effort in setting these standards.'
Despite difficulties in getting microhydro schemes started, opportunities to get real returns on established projects are proving popular. Welsh heads up h2oPE, a social enterprise that aims to get investors involved in community hydroelectric schemes. The group has recently launched a £1m social share offer to finance three community-led hydroelectric projects. People can invest anything from £250 to £20,000 and the company estimates they will get a three per cent return in the first five years, rising to five per cent thereafter.
'We've seen some community groups who are doing things themselves and it's taken them five years to get planning permission,' said Welsh. 'We've tried to narrow that to two years, from planning a site to producing electricity, by throwing all our resources at it so far it seems to be going well. The FIT has also captured people's imaginations and on the different sites we've been working interest has increased by about 30 per cent.'
Once all the qualifying standards for FIT have been put in place, interest in hydro is expected to grow significantly. The EA predicts that even if all of the potential capacity for microhydro in the UK was captured, it would only amount to one per cent of the UK's projected electricity demand in 2020. But the sustained interest in hydro proves that it has more to offer than simply small-scale energy generation. Welsh believes that realistically microhydro is just going to be part of a jigsaw of solutions. 'It doesn't provide scale, but what it does do is allow a community to have sustainable income stream in the long term…quite apart from carbon emission, it's about community cohesion and community benefit.'

Power Plans New Generation
Microhydro schemes are already attracting significant backing
Back in September 2008, h2oPE help set up a small-scale hydro scheme in Settle, North Yorkshire. It appealed to investors to come up with £100,000 to help the project get under way. The scheme was oversubscribed and, as of December last year, has been generating electricity. It is estimated that it will provide 165,000kWh (units) of electricity per year- enough for around 50 average-sized houses.
The group has now teamed up with River Bain Hydro and is planning to install a 45kW hydro plant on the River Bain at Bainbridge. Two further projects are under way at Stockport a 54kW plant at Otterspool Weir and a 75kW plant at Stringer Weir. In the Brecon Beacons a similar scheme focusing on high-head microhydro has been set up by The Green Valleys project. The project currently generates power from 10 mountain streams and recently became one of three winners of a £1m Nesta prize fund for reducing carbon emissions.