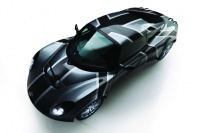 Some companies are looking at incorporating the batteries of electric cars into the chassis structureDespite advances in structural energy storage, central battery units are likely to be a feature of electric vehicles for some years to come. As a result, some companies are looking to use conventional batteries in a more structural way.
Alongside its experimental material, the Lola-Drayson electric car features a primary battery that is integrated into the carbon chassis of the car rather than sitting in a casing that is bolted on separately - simplifying the design and halving the weight of the battery support.
Green utility company Ecotricity has also produced an electric racing car called Nemesis (pictured) that incorporates its own version of structural energy storage, packaging a 400V lithium-cobalt battery system into part of the chassis structure.
The structure, developed by Norfolk-based Router Automotive, features an aluminium, carbon-fibre and Kevlar outer enclosure bonded and mechanically bolted to the chassis. A resin and glass-fibre inner enclosure complete with a fan-assisted labyrinth air flow system provides electrical and thermal insulation and manages the battery's temperature.
'[It will] minimise the risk to the battery cells and substantially increase the torsional stiffness of the chassis for this sports car and thereby maintain or even improve the vehicle handling dynamics,' said Trevor Saunders Ecotricity's head of special projects.