CABLED: researching how drivers use electric cars
Arup, Jaguar Land Rover, Tata, Mitsubishi, Mercedes Benz, E.On, Coventry University, Aston University, Birmingham University, Birmingham City Council, Coventry City Council
The road to electric vehicle (EV) take-up is paved with bad assumptions. Every step of the way, all the stakeholders in EVs – car makers, drivetrain specialists, battery manufacturers and infrastructure developers – have to take into account that an EV is not the same as one powered by an internal combustion engine.What does that imply for the way it'll be used? How far will people drive? When will they recharge and how long for? And how much of an issue is range anxiety?
You can ask people about this as much as you like, but in the end the answers will be guesswork. So the Coventry and Birmingham Low Emission Demonstrators (CABLED) programme planned to find out in the simplest, most obvious way possible: give a lot of people EVs, make sure they have the equipment necessary to recharge them at home and then see how they get on.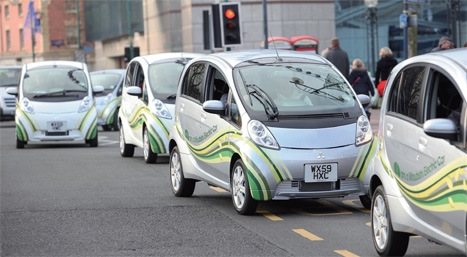 CABLED is the UK's largest study into the long-term use of low-carbon vehicles, with trials on 110 ultra-low-carbon vehicles and their associated infrastructure across the West Midlands, sending cars out to a range of testers, including members of all the partners and electric-car enthusiast (and former Engineer Awards presenter) Robert Llewellyn, all of whom had a year's usage of their cars.
Four car makers provided vehicles for the trial – the Range_e plug-in diesel hybrid from JLR; the Indica Vista EV from Tata; the iMiEV from Mitsubishi; and the Smart Fortwo electric drive from Mercedes Benz. In addition, Coventry University Enterprises chipped in with Minicab hydrogen fuel-cell vehicles. Home and work charge points came from E.On, while Birmingham and Coventry universities provided hydrogen refuelling stations. Aston University analysed data from the vehicles.
'This project is the first of its kind to place EVs in the hands of real users for an extended period of time and to collect quantitive and qualitative usage data,' said CABLED programme manager Neil Butcher of Arup (who himself drove an iMiEV for the test). 'The project is demonstrating how EVs can be a practical alternative to conventional cars and provided a glimpse of how the future can be shaped by EVs. The project has a key goal of demonstrating the feasibility of using EVs in everyday life: it helps modify behaviour from fill-up to plug-in.'
Initial data showed that people were charging when they arrived at work, when they got home and overnight
Another of the test drivers was Peter Young, head of advanced technology and research for Arup, who in fact drove three of the cars: an iMiEV, a Smart Fortwo and a Citroen C1 EV'ie fitted with inductive charging equipment. 'My experience has been a positive one,' he wrote in a guest blog for The Engineer's website.
'EVs are fun to drive and I have effortlessly substituted the EV for our diesel saloon on journeys of less than about 40 miles. Concerns about range, charge-point availability and charge time are easily managed almost without realising; you quickly learn which journeys are suitable and where charging points are. Allowing for these factors becomes a "normal" and almost subconscious part of journey planning.'
Initial data from CABLED, utilising information from iMiEV and Fortwo drivers, showed that 77 per cent of journeys undertaken lasted less than 20 minutes, and only two per cent used more than half of the battery's charge. The length of journeys tended to increase over time as drivers gained confidence.
The average charging time was between two and three hours, at peak times between 07:00 and 09:00, and between 18:00 and 19:00; another peak occurred after 23:00. In other words, people were charging when they got to work, when they got home and overnight. Most people tended to recharge while the battery was still at about 80 per cent of capacity.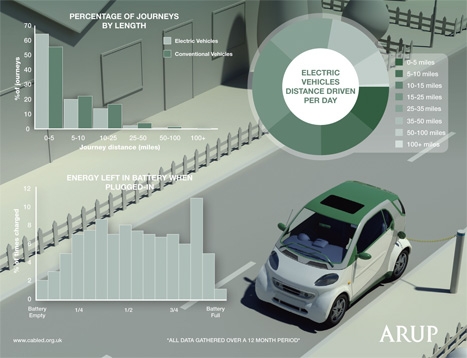 This hard data will help in the development of an EV strategy in the UK, according to Butcher, as well as helping to predict the speed, costs and economic benefits associated with a mass uptake of ultra-low-carbon vehicles. 'The benefits will include the cities reducing their carbon footprints – Birmingham has a target of 60 per cent reduction by 2026 – improving the air-quality readings and reducing traffic-generated noise,' he added.
Part of the reason for CABLED is to increase public awareness of EVs and their capabilities, and Butcher said he believes it has been a success; he estimated that the 22 items of broadcast coverage and 24 items in technical journals have been seen or read more than 400 million times.
Young also experienced the downside of current EVs. 'We are a two-car family and I estimate that we have travelled about 700 miles in the EV and 3,000 in the diesel [between Christmas and April],' he said. 'In the UK as a whole, 94 per cent of car journeys are less than 25 miles, but the remaining six per cent constitutes 37 per cent of total vehicle miles. One-car households will continue to buy petrol cars so that they are able to travel long distances when necessary.'
"This project is the first of its kind to place EVs in the hands of real users for an extended period"

NEIL BUTCHER, ARUP
For a complete switch-over to EVs, a solution needs to be found for low-carbon long journeys, Young added – or there will need to be a significant change to travelling habits.
But to put this in perspective, he pointed out that EVs are, in the final analysis, a long-term solution to the problem of fossil-fuel-powered transport.
There is a goal to reduce carbon emissions by 80 per cent by 2050, said Young. 'The year 2050 is a long way away and technological advances are much less predictable than behavioural changes,' he explained. 'Electricity will be carbon free by 2050 – it will have to be if domestic and industrial carbon emissions are to reduce as required – and so EVs might be part of the answer.'
Currently, billions of dollars are being spent on battery development and other technological goals to improve EV performance, he added.
There are many naysayers on the subject of EVs, according to Young. 'Some commentators will use current technological limitations to dismiss their potential contribution to the decarbonisation of private transport. But behavioural change and technological advance will happen in parallel.'
CABLED proves that, for about 100 people, behavioural change is possible. In fact, it isn't even that difficult.
runners-up
The other shortlisted candidates in this category were:
Delta E-4 Coupe: an all-electric sports car [HIGHLY COMMENDED>
Delta Motorsport, Totalism, Oxford YASA Motors, Advanced Composites, KS Composites, Penso Consulting, Simpack
Capable of 0-60mph (0-97km/h) in 6.5 seconds and able to travel more than 120 miles on a single charge, Delta Motorsport's E-4 Coupe is a striking example of the UK's burgeoning electric vehicle expertise.
The project focused on reducing the weight of the vehicle, enhancing its aerodynamic performance and optimising the powertrain. The chassis of the vehicle weighs less than 65kg; the whole vehicle weighs just 975kg, despite the battery pack weighing 350kg. The battery is below the vehicle's floor, giving it a low centre of gravity, and centralised between the seats, improving its handling.
innovITS Advance: a test circuit for intelligent transport systems
innovITS, MIRA, TRL
Intelligent vehicle systems enable cars to communicate both with each other and with the traffic infrastructure they pass through, which could lead to significant improvements in road safety and the more efficient use of transport. However, its development has been hampered by a scarcity of facilities to operate and test the systems.
InnovITS Advance – located at the proving ground of automotive research organisation MIRA in the West Midlands – is the first facility of its type for testing infrastructure and in-car ITS. At its heart is a City Circuit, comprising a network of roads with a configurable open architecture of Wi-Fi and GSM mobile telecommunications systems, which is designed to be set up to replicate the driving conditions of any urban driving environment around the world.