The golden age of British motoring brought with it a whole range of now-legendary cars: Jaguar's finned D-type and iconic E-type, the MG Roadster, the Lotus Elan and the Aston Martin DB5. Britain's sports cars were highly regarded — probably second only to the legendary Italian marques — and were the showpieces of what was then one of the world's leading automotive manufacturers.
Of course, things are different now. Although still making huge volumes of cars, Britain no longer has a home-owned volume manufacturer. But British sports cars are still highly regarded — Aston Martin is back in British hands and Jaguar, although now Indian-owned, still makes cars that can compete with both Ferrari and Porsche.
But that's not the whole story. The performance and prestige end of the car industry today has a disproportionate number of British names. Some of them are echoes of the golden age — Morgan, for example, is still defiantly hand-crafting 1940s-style roadsters around modern drivetrains. The former wartime aircraft manufacturer Bristol exhibits its lovingly made Blenheim saloon and startling Fighter sports car from its anachronistic showroom amid the boutiques and restaurants of Kensington.
But other, newer names are arriving on the scene. Some are sleek and refined-looking, from companies such as Leicestershire-based Noble. Others are odd-looking beasts, clearly owing much to Formula 1 design, such as the skeletal Ariel Atom and the frankly terrifying Caparo T1. And yet more names are appearing: Lightning is developing an eagerly awaited electric sports car and Jaguar's home city of Coventry has also produced Climax cars.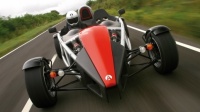 Noble is another interesting example. Founded by entrepreneur and car designer Lee Noble in 1999, the company designs and develops its cars — to the extent of developing its own supercharging system for its original Ford engines — but does not manufacture them. The bodies and chassis are made in South Africa, then shipped to the UK, where the drivetrain and suspension are installed and the car finished. Noble is currently developing a new model, the M15, and a track variant, the M600, which will be based around a 630bhp Volvo V8 engine and will cost around £200,000.
Lee Noble himself is no longer associated with the company, which he sold in 2006 and resigned from in 2008. He is in fact preparing to launch yet another new supercar using the same South African company, Port Elizabeth-based Hi-Tech Automotive, which produces his old company's cars. The car will be called the Fenix (pronounced as phoenix) and is targeted to cost less than £100,000.
One of the new faces on the scene is Climax Cars, which aims to start making its first production model, the Climax Sports Racer, this year. Aiming to compete with the Ariel Atom, the Sports Racer is similarly roof- and windscreen-less, but styled more conventionally: it bears more than a passing resemblance to another Coventry legend, the D-type Jaguar.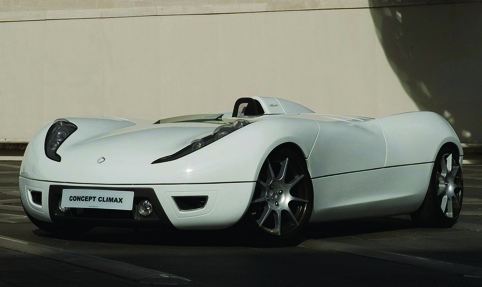 Like the Atom, the Sports Racer was the result of a student design project: the company's design directors, Simon Long and Marcus Rayner, came up with the car as part of their transport design degrees at Coventry University. According to finance director Simon Keiro-Watson, making the car a reality was the result of a great deal of networking.'The chassis engineering and the actual building of the car is being done by a company called Coventry Prototype Panels,' he said. CPP, which specialises in hand-built, small-volume production as well as concept cars, also builds Spyker's bodywork and is a key factor in the company's move from the Netherlands to the UK. CPP founder and managing director Brendan O'Toole has been involved in the Climax project since its early days, Keiro-Watson said. 'He's been instrumental in making sure it's going to happen.'
There are a lot of enthusiasts who want to support something uniquely British

Simon Kiero-Watson, Climax Cars
Putting the car together is a complex process of selecting the vital components and finessing design and marketing. 'We were planning to go into production in 2008, based on Subaru Impreza running gear, and the engines were specified and re-engineered by Prodrive, which is Subaru's rally specialist,' Keiro-Watson added. 'But then Subaru pulled out of the World Rally Championships so Prodrive couldn't supply us with engines and gearboxes. We rethought and re-engineered the car and decided to go up the food chain a bit with a V8 engine rather then the Impreza flat-four, which was stretched to its limit at 300bhp.'
The powerplant of the Sports Racer is a Ford Racing V8 mated to a gear-box from Graziano, which supplies gearboxes to Ferrari, Lamborghini and Aston Martin, among others. 'One thing that was imparted to us time and again was to go for something for our first car that was tried and tested and would work straight out of the box,' Keiro-Watson continued. Lee Noble spent a great deal of time and money on supercharging his engines to eke more power out, he said, while TVR hit warranty problems when it started producing its own engines and Caparo had an embarrassing moment when its T1's engine blew up while Jeremy Clarkson was driving it on Top Gear. The Ford Racing V8 is a known quantity in terms of size, weight, power output and reliability.
The launch design is also deliberately simplified. 'The Sports Racer is road legal, but it's stripped down, with no air conditioning or anything like that. It's a much simpler car to engineer than a full GT coupé, which we see as our second phase,' Keiro-Watson said. 'We're limiting production of the Racer to a maximum of 200 over a three-year period and we may make fewer than that; it depends on where we are with engineering the GT. We do appreciate that the Racer has a limited market; the GT's would potentially be much bigger.'
The small production runs, near-bespoke nature of the cars and the careful selection of suppliers shows that the UK's sports car production is far nearer to its motorsport sector than to mainstream automotive. 'This isn't men in sheds, far from it, but these cars are effectively hand-built, using traditional craftsmanship. In that way, we aren't too far from companies such as Morgan and Bristol; we trade on the cachet of providing something exclusive, with the British pedigree,' Keiro-Watson added. 'But I can't see that there's much relevance to mainstream manufacturing, because it's so far away from the way that mass-produced cars are put together. In my opinion, you can't put the skills we use into mass production. The UK has some of the most profitable mass car production in the world, but it has little relevance to what we're doing.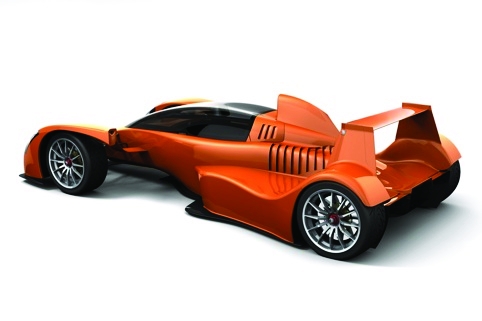 But there is a great deal of goodwill within the automotive sector towards small sports producers, Keiro-Watson concluded, and a recognition that design talent needs to be fostered. 'We've seen a large amount of professionals within the industry keen to support young talent. There are a lot of enthusiasts who want to support something uniquely British.'
Perhaps the sports car producers' true relevance, then, is to a resurgence of interest in launching innovative products onto the market, and in specialist design, rather than manufacture. And if it provides an avenue for talented engineers to make a name for themselves and reach a small but significant worldwide market, then the roar of the British sports car could be a hopeful sound.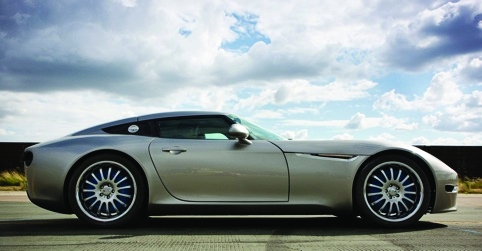 Lightning speeds
Innovative design is at the heart of the British sports-car resurgence, as can be seen from the Atom and Caparo. But new technologies are also on the agenda, with the Lightning at the forefront.
The Lightning, being developed by Peterborough-based Lightning Cars, is an electric GT, claimed to be the first of its kind in the world. Power comes from in-wheel electric motors using a system called Hi-Pa Drive, with the motor and drive electronics integrated into a single unit. In a similar way to other electric vehicles such as the Riversimple City Car and Morgan's Lifecar, this does away with gearbox, differential, driveshaft, axle and other mechanical components, and also uses regenerative braking to charge the batteries.
Power comes from NanoSafe batteries from US firm Altair Nano, based around titanate rather than graphite electrodes, which are easy to charge and work within a wider temperature range than the lithium-ion batteries more usually associated with electric cars, so no cooling or heating of the batteries is required. Charging times of just 10 minutes are claimed for the 30 battery packs needed to power the vehicle, which will provide a range of up to 300km on a full charge.
Lightning says the car will have a top speed of 130mph and will accelerate from 0-60mph in 5sec. However, the car is still a promise rather than a reality. Although the company is taking reservations and projecting a cost of around £120,000 for each car, it has still to start full production.