When British Cycling gave Dimitris Katsanis six months to build the best bike in the world, it was a challenge not every engineer would have risen to. But then not every bike designer has been an international competitive track sprinter. The Greek-born expert in composites had moved into the aerospace industry in the years since his professional cycling career but he had kept hisconnections with the sporting world and had been among the first to apply expertise in carbon fibre to building bikes for several national teams.
So when the UK's governing body for cycle racing wanted to address problems with the bikes used in the 2001 racing season, Katsanis was well placed to put forward his ideas. He also benefited, he says, from the organisation's open-mindedness and willingness to take risks. 'One of the great advantages when British Cycling came to me was they gave me a free hand. Not "we want this, that and the other", just "make us a frame: if it is good we'll take it; if it is no good, forget about it".'
Despite this freedom, Katsanis's ideas weren't revolutionary. They were more about addressing component quality and supply-chain reliability, making use of the ample data that British Cycling provided on the amount of power and torque the riders were producing. 'Many people like to glamorise it but in reality it's just common-sense engineering,' he says. 'It doesn't matter if you're designing [a bike or] an aeroplane wing: you have your loads, you have where the thing is supported, where the loads are going through. You just have to make it strong enough to do the job.'
And, he says, he took a conservative approach to the sport's regulations, even though he suspected other teams were stretching the rules, which he claims weren't consistently enforced at the time. 'The worst thing that could happen would be the British cycling team getting to the starting line at the Olympic Games and then finding out they cannot race.'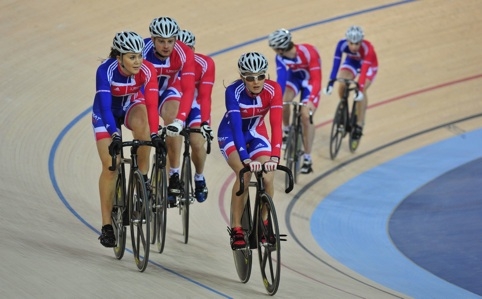 The results, however, spoke for themselves. 'Chris Hoy used it straight away,' he remembers. 'He broke his own record straight away by quarter of a second. A quarter of a second on the sprint is actually quite a difference.' A 12-year partnership followed, during which, Katsanis claims, his bikes have won 51 gold medals in the World Championships and Olympic Games, including Team GB's hauls in Beijing in 2008 and in London last year.
Though the UK has gradually risen to the top of the world's cycling ranks, the technology in the bikes hasn't changed that much since Katsanis's early designs for British Cycling. Carbon fibres had been refined in other industries, most notably aerospace, so it was more a case of bringing that knowledge across into the sport than inventing something new, he explains.
'Ten years ago the materials weren't really that different compared with what they are today, in terms of things you can actually use… I would need to do quite a lot of testing to prove that something is actually better. Carbon nanotubes and so on are still not quite there as a structural material.'
What has changed is his and other manufacturers' ability to work with the materials, primarily thanks to improved analysis techniques, which helped Katsanis make large strides in making the bikes more aerodynamic. 'Twelve years ago if you were trying to do aerodynamic simulations and so on you could only do some very crude bits,' he says. 'Structural analysis was more common than CFD [computational fluid dynamics] but, still, it was quite cumbersome. So in fact, information technology is probably the most important factor that has sped things up quite considerably.'
However, Katsanis doesn't like to rely completely on software and simulations — partly because they sometimes throw up anomalies that need to be manually identified and partly because he likes to stay in control of the engineering process. 'I favour doing a number of different solutions. You look at the results, you pick the one that perhaps is the best and you run with that,' he says. 'A lot of people do the simulation by running hundreds of different solutions and letting the software manipulate the shapes — I'm not keen on that.'
This emphasis on keeping a firm grip on the engineering was mirrored by Katsanis's desire to stay close to the users of his creations — the riders — rather than have their views filtered through managers and coaches. And this was where his own cycling experience came in useful too. 'It gave me a little bit of background information that you cannot tease out from the riders,' he explains. 'They will give you that bit of a hint that they think is not really crucial but you realise this is something that can make a difference.'
Katsanis's professional cycling career didn't last long, although he did once come up against British Olympic gold-winning racer Chris Boardman, with whom he would later collaborate on one of the UK's time-trial bikes. 'He was one or two places ahead of me at that time; he improved a bit since,' he laughs. But it was Katsanis's interest in racing that eventually made him return to an earlier fascination with engineering.
After realising that his sports-science degree and a career in coaching wasn't going to satisfy him, he thought back to his youthful exploits of taking apart motorbikes and trying to make them go faster. At the same time he had been building his own bicycles from steel tubes and looking around for the next step in bike technology. He found it in the field of composite materials, which had yet to fully emerge into the world of sports engineering, even in motor racing, and began to experiment.
'The very first full composite structure I did was a racing wheelchair back in Greece in 1992 [for the Barcelona Paralympics],' he says. 'It was a full carbon chair with carbon disc wheels — very primitive but it was lighter, stiffer and more aerodynamic.' Amazingly, this was before he had even begun to study composite engineering, which he would go on to do at Plymouth University. 'I bought a book about composites. My English was so-so, my engineering knowledge was very basic and a lot of things were not making sense. But I used it as well as I could and it worked quite well. So when I actually went to study composites engineering I had already done some.'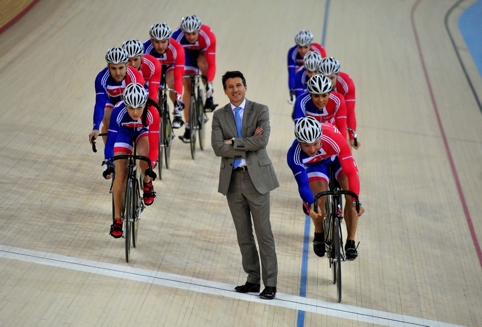 Now Katsanis has come full circle, having helped design a carbon-fibre racing wheelchair for the UK that will be used at this year's World Championships.He's also continuing his work with UK Sport, helping in preparations for next year's Winter Olympics — a field in which he already has some experience, having helped design parts for the British bobsleigh. He also recently contributed to the Pinarello bike Bradley Wiggins used in his unsuccessful Giro Italia attempt that Team Sky is also using for the Tour de France.
But he's also looking at a return to aerospace and hoping to expand his own engineering company, Metron Advanced Equipment. 'In terms of performance, all the research and development comes from aerospace — the Cold War was great for engineers,' he jokes. 'It has very long development times usually. In Formula One, for example, if they get a sniff that they can do something veryquickly and get a tiny percentage increase they will go for it. Whereas in aerospace they will test it again and again and document it, which actually produces a vast amount of literature for the rest of the engineers to look into.' Perhaps going back to the sector will provide Katsanis with the fuel for the next great sports technology innovation.