It's a common complaint that many engineering graduates don't possess the skills that industry requires. How true is this? And why is this the case?
The range of the skills gap is broad and extremely diverse. Traditionally, it was about developing softer skills, such as the ability to communicate, work in teams and under pressure – all areas we focused on when launching the Institute for Advanced Manufacturing and Engineering (AME) four years ago.
More recently, companies are having to contend with the emergence of digital technologies and how they can use these to drive improved productivity. The problem is there aren't enough people who understand data; how to collect it, process it and then, importantly, how to use it.
We need to think differently about what we teach
Universities must try to keep their education programmes up to date and inform their student learning by fully leveraging the cutting-edge research taking place across the world.
We need to think differently about what we teach. These new skills require mechanical, electrical, data processing, controls, programming and the rounded engineer of the future will look very different to the engineer of the past.
The other perennial problem Universities need to address is the over-reliance on teaching the theory, whilst neglecting the need for students to put it into practice so they can understand the context around what they learn.
What skills in particular are in short supply?
Like I've already mentioned, we need more students who can blend their learning with softer skills, including communication, managing different personalities, working under pressure and meeting deadlines.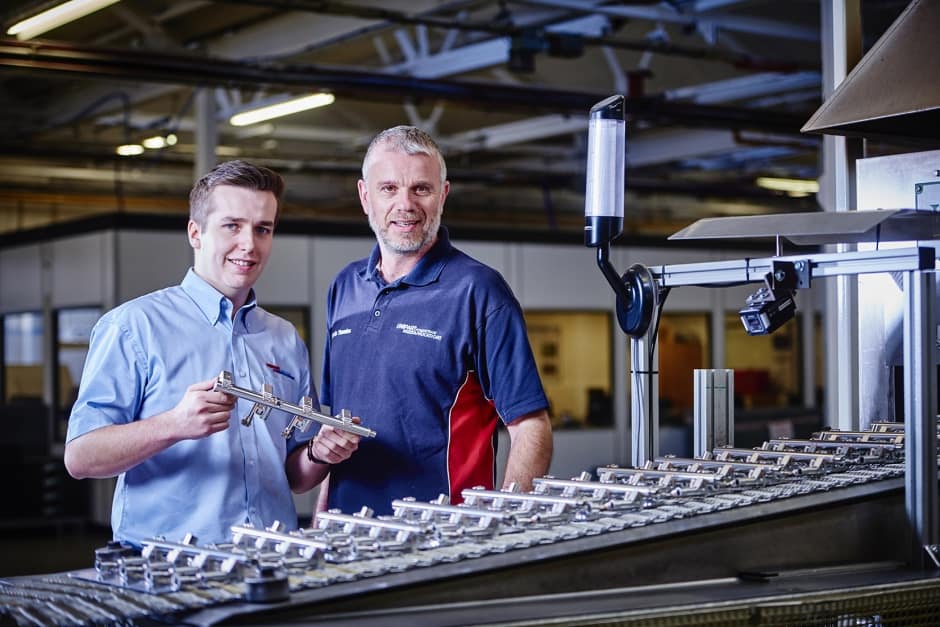 Digital is the new trend and how industry practically implements Industry 4.0 approaches. The automotive sector, in specifically, is moving at pace towards vehicle electrification and this is already highlighting a gap in electronics and electric and controls engineering – bridging this gap will be crucial to building the UK supply chains the sector will no doubt depend upon.
How is the Institute for Advanced Manufacturing & Engineering attempting to address this? How does the model work?
The Institute for Advanced Manufacturing and Engineering was the brainchild of Unipart Manufacturing and Coventry University and was designed to create the UK's first 'Faculty on the Factory Floor'.
AME, as it is now known, has grown rapidly since its launch in Coventry and we have just accepted our 5th intake of undergraduates, whilst we are about to graduate our second cohort of students. This will be 130 engineers either industry-ready or on their way to being industry-ready.
Things are going very well. This year we have refreshed the course material for undergraduates, with more digital manufacturing content and investment in physical expansion to our 1700 sq metre state-of-the-art hub that focuses on delivering productivity improvement via more capability in digital technologies, robotics, automation and data collection and processing methods.
Our students will have access to all of these facilities and we will be integrating these ideas into their factory floor projects with Unipart and other manufacturers.
What are students learning that they couldn't learn on a standard engineering course?
The practical projects delivered through the 'Faculty on the Factory Floor' model is the real differentiator.
As well as working with people across all functions of the business, the projects embedded within the business helps the students put the theory immediately into practice as they learn.
CLICK HERE TO READ ABOUT HOW ONE AME GRADUATE IS MAKING WAVES IN THE WORLD OF ELECTRIC VEHICLES 
It helps them build a CV of practical work experience to complement their classroom learning, so they are more ready for work than their counterparts who opted for the traditional degree courses.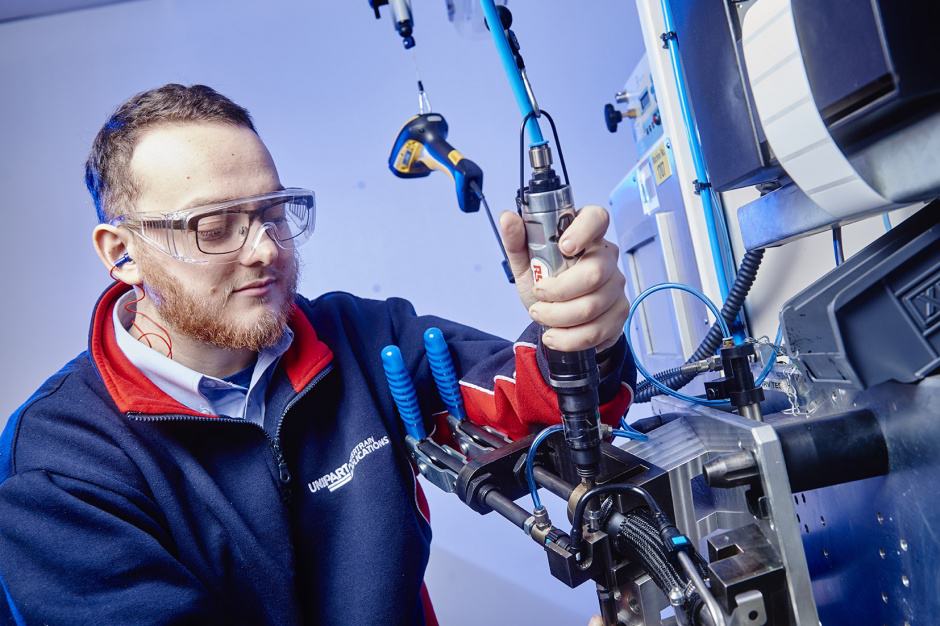 We have worked really hard to build international partnerships so our graduates also get to experience manufacturing environments in other countries, including Brazil, Switzerland and the US.
What lessons could the rest of the engineering education community learn from this initiative?
The concept of 'learning by doing' is really at the heart of what we do. We create the right environment for students to find their way by having first-hand experiences, allowing them to make mistakes along the way. The real-world environment, with support from great people in the business and University, helps them become practitioners of what they learn.
Ask yourselves when you complain about the skills gap, what are you actually doing about it
Our University could never have done this alone. We were brave enough to welcome a manufacturing business - Unipart - into the academic delivery model to provide this unique experience.
My challenge is not just to other universities. It is to other businesses - ask yourselves when you complain about the skills gap, what are you actually doing about it?
Unipart stepped forward and got involved. It was a risk, but it is paying off. Great graduates are now in the business (for example Alicia who you can read about here) and making a major difference. I challenge you…be part of the solution, not the problem. Get involved!
Do you think engineering businesses need to be more proactive about working with education to communicate their skills requirements and help shape training?
Yes, this is a must. However, they can go a lot further than this and get more involved in the education delivery.
This could start from summer internships, or, to the extreme, involvement in an AME-type partnership.
Some companies are coming into the Institute and giving guest lectures to the students as part of their outreach initiatives, others are offering site visits or internships.
Several have now benefitted from recruiting a graduate. All these things enrich the learning programme and students absolutely love it. Companies should not be afraid to get involved. They may not realise exactly how before they come and see us, but after they quickly understand that they will get a lot back out of it.
With AME graduates now working in industry how effective is the institute proving to be? What's the feedback from industry in general and specifically your industrial partner?
Feedback has been excellent. The students get exposed to the business from day 1 in the first year and this gives the company the opportunity to spot the talent and help the students find the right job for themselves – in essence, it is really a 3-year interview.
The recruitment process is so much more straightforward. Offers are made early in the final year so students can focus on passing their finals rather than searching for jobs and the business has had 36 months to get to know the individual, thus reducing the risk of making a mistake by hiring the wrong person.
AME delivers graduates who enter the business and hit the ground running and are now playing significant roles in projects
On top of that, recruitment costs are low as there is no need to advertise externally. However, the real win is the impact the new recruits have on the company from the first minute they start.
The 'work-ready graduate' concept has been proven. AME delivers graduates who enter the business and hit the ground running and are now playing significant roles in projects such as HYPERBAT (electric battery development) and development of new fuel fillers and fuel tanks.
What's the feedback been from students?
Last year, our AME students gave 100% across the board in the National Student Survey - you can't do any better than that.
It is testament to the hard work of the University lecturers and tutors, as well as the effort Unipart and their staff put in.
I try to get to know all the students by name. Not a difficult job if I put the effort in, but they really appreciate it and makes them feel valued.
It was a proud day last November when our first cohort graduated, especially meeting many of the parents again and it was pleasing to hear positive feedback from them too. They put their trust in us with their children back in 2014 and several of them commented on how happy their son or daughter have been at Coventry & AME and how it has helped them make an easy transition into the working world.
What are the plans for the future. Will you be scaling up or looking to replicate the model elsewhere?
The good news is that AME has already started scaling up. Strong demand has allowed us to increase our undergraduate numbers by about 30% over the original planned levels and the next steps will be to start taking higher apprenticeships.
We are also hoping to get a lot more businesses involved in the activity as we expand our capabilities.
Finally, we are also working with a new industrial partner on an AME-style model in a different sector – there could be an announcement on this before the end of 2018 and we could be taking on our first students in Autumn 2019.
Prof Carl Perrin is the Director of Coventry University's Institute for Advanced Manufacturing and Engineering (AME)