Philippa Wilson doesn't see herself as a trailblazing female in the tough world of engineering. She prefers to think of herself as just another young engineer, struggling with the same challenges as anybody else who is starting out in their career.
According to Wilson, the attention her gender receives is mainly from those outside the engineering profession. It seems to be a vicious circle; wider society has outdated notions of engineering and, whether or not they intend to, their attitude is preventing more women from becoming engineers. At 24 years of age, Wilson has achieved a great deal. She was a project manager for BAE System's FLAVIIR programme, a £5m
research project looking at future technologies for unmanned aerial vehicles (UAVs). It was here that as an apprentice she coordinated the manufacture and assembly of the record-breaking Demon UAV.
Last year, Demon made its first flight from Walney Island, off the coast of Cumbria, making it into the Guinness Book of WorldRecords for being the world's first 'flapless' plane. It was designed to fly without conventional elevators or ailerons, getting its pitch and roll control from technologies which rely on blown air.
'It was a really exciting project to work on,' said Wilson. 'It got my interest going in the whole building side of things. It was great to work closer with the guys on the shop floor who were actually building the stuff and putting the aircraft together. Primarily because of my work on that I won two national awards.'
Wilson scooped the BAE Systems Special Achievement and Advanced Apprentice of the Year awards. Impressively, this was done at the same time as completing her NVQ3 units in Engineering Technical Support and competing on the England Ladies Ice Hockey Team. She now
works as a manufacturing engineer for the F-35 Lightning II aircraft programme in Warton, Lancashire.
'With both JSF and Demon, I've had to work closely with the guys on the shopfloor,' quite scared of. The majority are lads down there, all the way from young to near retirement. There's a belief that it can be a bit of a nasty place, but I have to say I had an absolute blast. The camaraderie was great. It's all about getting the job done and having a laugh.'
"I've had to work closely with the guys on the shopfloor. It's an area a lot of people are quite scared of. But I have to say I had an absolute blast"
This experience of the shop floor seems to be at odds with what Annette Williams, director of the UK Resource Centre for Women in Science, Engineering and Technology (UKRC) claims is the most difficult area for women to progress in engineering (see page 6). But while Wilson believes there is a perception problem about women in engineering, the reality has, for her at least, been very different.
'I think at college there definitely was an "Oh engineering" kind of attitude, but as soon as I started my apprenticeship, it changed,' she said. 'There is definitely a problem about how people think it might be like for a female engineer. In my year there were 60 apprentices and only two of them were girls. But I never saw or experienced anything where they said, "you can't do that". In the year after me, there were about seven. So I think more girls are slowly getting involved.'
Wilson's fiancée is a nurse and she laughs at the idea they that have swapped what many people believe should be their traditional roles. But even if their jobs still raise a few eyebrows, she believes that the majority of young people think differently to the rest of society. Times have changed, claims Wilson, and the fact that she finds the focus on her gender amusing is just one example of that.
What concerns Wilson right now is encouraging more young people, whether male or female, to pursue an engineering apprenticeship rather than go to university.
'I've always thought it's the best way to get into engineering, especially with a subject that is so hands on. You're better learning it by going out into the shops, working with the guys who have been doing it for years. A lot of the knowledge that is passed on is out of those guys' heads, it's not on paper.'
In a sector that needs to attract all the talent it can get, increasing the number of apprenticeships could help cast the net further afield. But making sure that just as many young women as men grab hold of this opportunity will be much harder.
Wilson's experience on the shop floor is an encouraging assessment of what it's like to be a female engineering apprentice. How far her treatment will be similar to that of future apprentices, however, remains to be seen.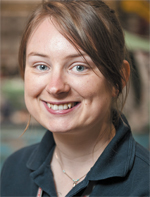 Philippa Wilson biography
Manufacturing engineer
BAE Systems
Education
2003-2005 Attended Runshaw College
Career
2005 Began Technician Apprenticeship at BAE Systems working on the Demon UAV
2009 Obtained role of Manufacturing Engineer on the F-35 JSF Lightning II project
2010 Received BAE Systems UK National Apprentice Awards and National Employer Service Advanced Apprentice
2011 Represented Great Britain in ice hockey at the Student Winter Games
Q&A Education matters
Why did you choose to pursue a career in engineering?
I guess I fell into it. I've always naturally gravitated towards the subject. It comes naturally to me to see how things are made and look at it like that. I don't think it was a hard choice to be honest. I did electronics in school for my GCSE, and I knew of the apprenticeship at BAE Systems because my dad works here, and my grandad used to work here. After college, I kind of wanted to carry on with the whole electrical engineering side of things, but I couldn't go to university to do it because I didn't do maths A-level. To be honest I didn't really want to go to university, because of how much it costs, I didn't think it was worth it to be honest.
Do you think doing an apprenticeship rather than going to university has given you an advantage?
Absolutely yes. I know when I was working on that UAV, I was a second- or a third-year apprentice, we had a bit of experience, but not a whole lot, and we were working with PhD students. We were telling them they were wrong at times, which was quite cool. They had the theory behind it all but they had no practical experience or knowledge so they were trying to get us to make stuff that was literally impossible to make.
Were you given much encouragement to do the apprenticeship by your college?
No not really. Our college was more geared towards getting students into Oxbridge because it looks good for them. As soon as I said I didn't want to go into university, it's a waste of time and money, I was ignored. That made me even more determined to do it. It was just through my dad knowing about the apprenticeship at BAE that got me to where I am today.
What would you like to see happen within education and industry to encourage girls?
I think the best thing that I saw when I was in school was actually companies coming out and doing stuff with you. Building practical things such as robots – they don't have to be complex or anything. But having something at the end of it that you've actually built does get people's imaginations going.
What would you like to achieve in the future?
Just to keep doing what I'm doing. I don't mind what I do, as long as I keep enjoying it. I want to do something where I would want to come to work the next day. At the moment I'm just focusing on finishing my degree, getting a good result on that, and maybe going into management one day.