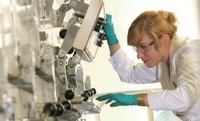 The technology, which is being commercialised through Imperial College spin-out Nexeon, replaces the carbon-based anodes used in Li-ion batteries with silicon anodes.
The developers claim silicon allows a greater charge to be stored within the battery. It is also said to provide much higher performance as an anode material, with charge densities about 10 times that of carbon.

Silicon has long been known as a superior anode material but, until now, it has suffered from physical instability when repeatedly charged and discharged.
Ian McDonald, engineering director at Nexeon, said: 'Silicon undergoes a phase change and large expansion when the battery is charged. This expansion causes the silicon to break down physically.'
The Nexeon technology, which is based on work by Imperial professor Mino Green, overcomes this hurdle by changing the physical form, or morphology, of the silicon.
McDonald said this is done by etching the silicon to form long thin fibres of silicon. He added: 'This aspect ratio gives the silicon the ability to maintain its physical stability without breaking down from the expansion.'
McDonald said the technique should not add any additional costs to manufacturing Li-ion batteries, and added: 'We have patented processes that allow us to manufacture the silicon material at a cost that's competitive with existing carbon-based technology.'
The manufacturing process was developed and evaluated at Nexeon's pilot plant at the Science Centre in Culham, Oxfordshire, where the company also established a research and development facility.
Imperial Innovations, which fosters spin outs from Imperial College London, has led Nexeon through several rounds of funding, including one round earlier this year that raised £10m.
McDonald said Nexeon is marketing its technology for a variety of applications ranging from consumer electronics to electric and hybrid electric vehicles.
He added that Nexeon is in discussion with a number of volume cell manufacturers to commercialise the technology.

Nexeon has plans to license the technology and possibly supply the specialised materials. Even though silicon is more expensive than carbon, the company claims silicon's higher efficiency will mean smaller amounts will be required and therefore costs can be reduced.