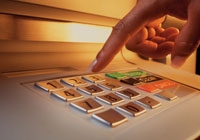 New user-friendly technology needs to be developed to help older people access modern banking methods, argue the researchers behind a new government-sponsored project.
The team from Newcastle and York Universities are working with Barclays Bank to help the nearly 2.4m people over the age of 80 in the UK become more comfortable with digital banking.
Their aim will be to develop assistive technology for older people who feel uneasiness with internet banking or chip and pin cards. An even greater focus will be on members of the elderly community without a banking account.
According to Age Concern, six per cent of people aged 85 and over do not have a traditional bank account.
'We hear stories like "Oh my granny used to keep piles of pound notes under her mattress",' said project leader Andrew Monk, a researcher in human computer interaction at York.
Many older people who do not have a traditional bank account, he said, have a special Post Office account, which allows pensioners to withdraw money from a staff member at the counter.
Monk argued these accounts require pensioners to withdraw large sums of cash at once and are not much better than having no account at all. 'They're in a difficult position for financial abuse,' he said.
The new assistive technology developed by Newcastle and York researchers will be tried out by a variety of focus groups over 18 months.
Some ideas include a wallet shaped foldable display. One half would display recent transactions with dates and amounts, the other half your current balance, as a figure and an analogue quantity.
Monk said other assistive technology devices could mimic the 'physicality' of cash. This is important, he said, because many older people work in a 'cash economy' and are wary of ATM cards because there is no way to immediately see the amount of money being withdrawn.
One of the main problems Monk and his team are looking to tackle are means for identifying oneself because many older people have trouble remembering passwords and PINs.
Assistive technology designed for these issues have already been deployed in India. The Bank of Maharashtra, one of the largest banks in Western India, announced plans last year to ramp up installations of biometric ATMs, which enable older people to access their bank accounts with a thumb impression instead of a PIN.
The system works by scanning a fingerprint of a customer when they open an account. A template of the fingerprint is stored in the customer's cash card. After inserting the card into the machine, the customer's fingerprint is captured with a built-in scanner and compared with the stored impression.
The technology has also been championed by the government-run Central Bank of India for rural Indian communities where modern banking methods are still unfamiliar.
Aside from cash machines, Monk said there will need to be more work done to make online banking more accessible. 'Older people weren't forced to use computers when they were at work unlike the baby boomers,' he said. 'So the notions like menus and passwords are very foreign to them.'
Michelle Mitchell, charity director of Age Concern and Help the Aged Charity, said it could be extremely challenging to make online banking more accessible for the elderly community.
'Efforts to make modern banking methods more attractive and accessible to older people are warmly welcomed,' she said. 'However, it is important that alternatives continue to be made available to older people who are unable to use modern banking methods such as internet banking and chip and PIN. For example, improving internet banking systems will be little help to the third of people over 65 who have never even used the internet.'
Monk still believes technology could be a big enabler for making older people more comfortable with modern banking, and the goal of their research will be to deploy the solutions they think work best.
'I hope by the end of 18 months Barclays are putting something in place,' he said.