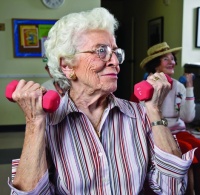 The device, which is currently being sold by Netherlands sensor provider McRoberts, was developed through the EU-funded Sens Action-AAL project for remote mobility monitoring technology.
Dubbed DynaPort Hybrid, the device is worn on the user's waist and uses a triaxial piezocapacitive accelerometer and a triaxial gyroscope to monitor and record a person's physical movement and body posture.
This information is then stored on a micro-SC card or wirelessly transmitted through Bluetooth to a PC. The McRoberts MoveMonitor software program, which is accessed online, analyses raw data sent throughout the week.
The DynaPort Hybrid, which is approximately 14mm thick and weighs 74g, reportedly runs for 75 hours on a single battery charge.
Rob van Lummel, founder and president of McRoberts, said he believes such remote monitoring will help doctors gain a better understanding of a patient's symptoms and help provide more effective treatment. One specific application for this, he said, is with Parkinson's disease because currently doctors can only assess a patient's mobility issues based on listening to his or her descriptions.
Van Lummel said these accounts can sometimes misrepresent the severity of events such as a fall. 'Also, sometimes they forget they fell or they don't want to tell doctors that they fell,' he added. McRoberts is marketing the device for uses beyond the diagnosis of mobility problems.
t is claimed the devices can also assist patients performing rehabilitation exercises by alerting them if their movements are incorrect, thereby improving their motion and posture. If this were to be used as part of a rehabilitation programme, McRoberts claimed, it has the potential to allow patients to carry out exercises at home with remote supervision rather than having to visit hospitals.
Van Lummel said this move towards more remote monitoring could significantly save costs for healthcare providers.