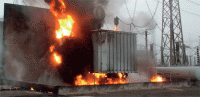 The programme, supported by National Grid, will determine how oil, which is used as an insulator and coolant, can become contaminated and deteriorate the electrical performance of transformers with potentially catastrophic results.
Project supervisor George Chen, an electrical power engineer from Southampton, explained that contamination usually occurs because the oil contacts metals and paper insulation in the transformers.
Over time, he said, these metals and insulation break down and produce chemical products that can contaminate and change the electrical properties of the oil.
Chen added that if that happens it can potentially ruin the insulation and cause a short circuit.
The Southampton team will use laboratory tests and computer modelling to study oil contamination and its effects on transformers. Chen said this will hopefully lead to a remote monitoring device that would be installed on transformers to assess the conductivity of oil.
'We will determine what threshold needs to be reached before the oil is treated or replaced,' he added. Chen said the idea fits with the UK's plans to roll out a 'smart grid', which would centre around intelligent monitoring systems to track electricity in the system. The idea is being championed by those such as GE Energy, which claims smart grid technologies could greatly reduce unplanned outages and transformer failure.
'It's estimated that on-line monitoring will detect about 60 per cent of problems not detectable by other means and therefore reduce the likelihood of catastrophic failure,' said Eamonn Whelan, general manager for monitoring and diagnostics at GE. 'This allows the transformer to be taken out of service for planned maintenance or replacement rather than have an unplanned outage, or the transformer can be "nursed" to end of life using focused monitoring.'
Europe's last major power infrastructure overhaul was completed in the period following the Second World War and many transformers are at, or approaching, end of life. Whelan added that the skilled labour required for transformer maintenance is dwindling.
'This will force utilities to adopt technologies such as transformer monitoring to safely transition from resource-intensive scheduled maintenance to a more efficient form of reactive maintenance.'
Chen added that reactive maintenance will be a much less costly and complex task for electricity suppliers.
'It will also hopefully make the supply of electricity more reliable and suppliers will not have to pay hefty fines for the interruption of the power supply,' he said.