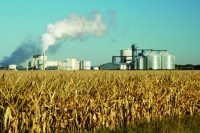 The €23m (£20.9bn) EuroBioRef programme aims to modernise current inefficient bio-refineries, which rely on a limited number of biomass sources. The project's researchers, from 28 industrial and academic organisations in 14 European countries, will look at the potential for growing and refining new types of non-edible feedstock within Europe. The EuroBioRef team will look closely at eastern Europe, where it believes there is high potential for growing biomass, but there are no bio-refineries.
The programme aims to develop specific catalytic reactions to transform new feedstocks into many different products.
The project's announcement follows an ActionAid report that states European firms have used millions of acres of land in Africa, central America and Asia to grow feedstock for biofuels. The charity claims this land could be used to grow food for poor and hungry locals.
As the EU works to meet targets to ensure 10 per cent of transport fuels come from renewable sources within the next 10 years, ActionAid has expressed concern that this could lead to an extra 100 million hungry people, higher food prices and a scarcity of land.
EuroBioRef project coordinator Franck Dumeignil said his research programme aims to alleviate some of these concerns by developing new crop-rotation strategies that could allow non-edible feedstocks to be grown in less arable land areas in Europe.
'We have found that when some non-edible crops grow they have a beneficial effect on the ground,' he said. 'For example, they can kill parasites and make the quality of the soil better.'
Dumeignil claimed these non-edible crops could be used as feedstocks for bio-refineries. An added bonus, he said, is this feedstock improves the soil, so once harvested, edible crops can be planted.
'Therefore we are not competitors with food crops,' he added.
Biofuels experts still remain wary about claims a sustainable biomass source could be grown in Europe.
'If you look at the UK figures last year, nine per cent of all biofuels used in the UK were produced from UK feedstock,' said Kenneth Richter, a biofuels campaigner for Friends of the Earth. 'Everything else, 91 per cent, was imported. So that is a reality and it is something we can't close our eyes on.' Neil Crawford, a bioenergy expert at the Biotechnology and Biological Sciences Research Council, called for hesitation before getting excited about a new non-edible feedstock. He pointed to companies shying away from jatropha, a tropical plant hailed in the early 2000s as a wonder biofuel because of its ability to grow in marginal lands.
Research by Friends of the Earth revealed that in Africa, yields for jatropha were miniscule when grown on marginal land. 'So instead it is being grown on high-quality agricultural lands in some of the poorest countries in the world, where you obviously have a problem to feed the native population,' he said.
Dumeignil said bio-refineries must take sustainability issues into consideration, but the problem is they are currently 'disconnected' from their biomass source. The EuroBioRef project aims to fix that by bridging the gap between the agricultural and chemical industry.
The ultimate goal is to design bio-refineries that can process dozens of different feedstocks into products to be blended into bio-jet fuels, chemicals or polymers.