The 92m airship has recently had its aft carbon composite battens added, which will provide structural support to the rear engines. Other components attached in the final weeks of 2015 include the port tailcone, as well as the first engine pylon. In addition, Airlander's flight simulator is now operational, and engine testing which began in February 2015 is ongoing.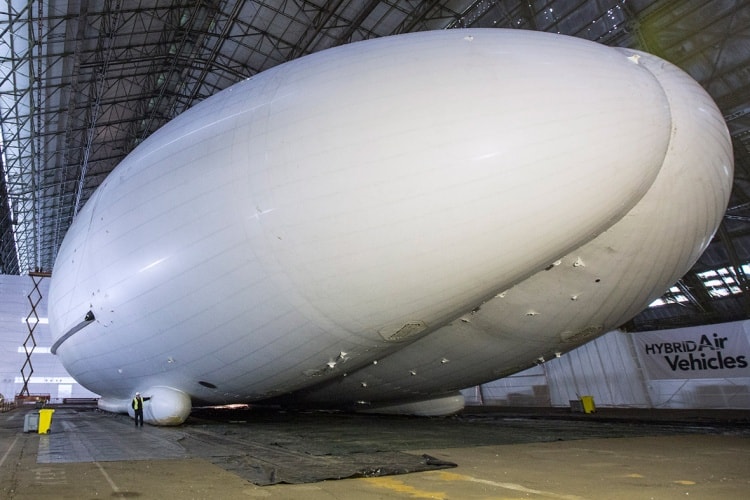 Airlander's four 325hp, 4l V8 direct injection, turbocharged diesel engines will enable the aircraft to fly for five days non-stop. Two engines will be mounted forward on the hull and two on the stern for cruise operation. All four are configured in ducts with blown vanes to allow vectored thrust for take-off and landing.
The ability to land on almost any surface without the need for airport infrastructure, on top of the aircraft's cargo-carrying capacity, means Airlander has significant potential to disrupt the air-freight market. According to HAV, the market for Airlander has been independently validated at more than $50bn over the next 20 years, and could create over 1,800 high-tech jobs in the UK. In the past year, the company has expanded its workforce from 20 to 115.
So far, Airlander has secured over £60m of customer funding, more than £6m of grants and over £12m of equity funding. Further finance is being raised ahead of a planned Initial Public Offering on the Alternative Investment Market (AIM).
In November, HAV reached an important milestone when Airlander received its first helium fill and was floated to the front of the 248m hangar in Cardington, Bedfordshire where it is housed. Ground tests on the aircraft are due to take place over the coming weeks, with the maiden test flight scheduled for the first quarter of 2016.
Scroll down to comment on this story