Northrop Grumman has been awarded a $517m (£350.6m) to develop up to three of the Long Endurance Multi-Intelligence Vehicle (LEMV) systems for the US Army.
Under the agreement, awarded by the US Army Space and Missile Defense Command/Army Forces Strategic Command, Northrop Grumman will design, develop and test a long-duration hybrid airship system within an 18-month time period, and then transport the ship to the Middle East for military assessment.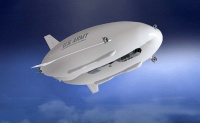 The LEMV will be capable of reaching altitudes of 20,000ft for a three-week period, and it will operate within national and international airspace.
To develop the airship, Northrop Grumman has teamed with UK-based Hybrid Air Vehicles, Warwick Mills, ILC Dover, AAI Corporation, and SAIC.
Northrop Grumman will provide the system integration expertise and flight and ground control operations to safely take-off and land the unmanned vehicle.
An in-depth look at the future of airships can be read by clicking here.