Texas Instruments
has announced a 16-bit, 10MSPS delta-sigma analog-to-digital converter (ADC) featuring 86dB signal-to-noise ratio (SNR) and 95dB spurious-free dynamic range (SFDR) over a 5MHz bandwidth.
The ADS1610 also provides 10MSPS operation and -94dB total harmonic distortion, making it suitable for high-speed applications requiring high accuracy signal measurement.
A 4.4MHz passband with less than 0.0002dB of ripple provides wideband signal processing, while an on-chip digital filter simplifies anti-alias requirements compared to SAR and pipeline converters. The device operates from a +5V analog supply and a +3V digital supply.
The ADS1610 is optimised to work with TI's TMS320 DSP platforms. TI offers a portfolio of wideband amplifiers suited to drive the analog inputs of the ADS1610 such as the THS4503 and THS4509.
The device is also pin compatible with TI's previously introduced ADS1605 (16-bit, 5MSPS ADC) and ADS1625 (18-bit, 1.25MSPS ADC).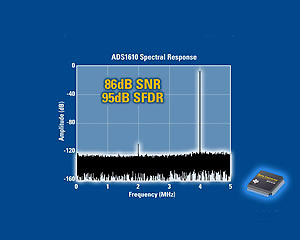 Sampling now, volume production is scheduled for 3Q 2005. The device comes in a TQFP-64 package and is priced at $29.95 in 1,000 piece quantities. Evaluation modules are also available.