Now, a new system called the Diamondback 360 has been developed by St Paul, Minnestota-based Cardiovascular Systems to provide patients with an alternative to that procedure.
Called orbital atherectomy, the procedure uses disposable, diamond-coated, catheter-based artery probes of varying sizes. As the end of the diamond-coated probes rotate within the vessel, they press against and sand away the hardened plaque, while the elastic, more compliant tissue flexes away from it, leaving the non-diseased tissue intact.
By removing the hardened plaque and changing the compliance of the lesion with the system, low-pressure balloon angioplasty can then be used to finish the procedure, which may reduce the potential for barotrauma to the vessel.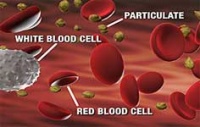 The result of the procedure is a smooth, concentric and open vessel that appears to be a normal size and allows an increased blood flow, reducing the risk of rupturing blood vessels or breaking off stroke-inducing chunks of plaque. More than 99 per cent of the particles created by the system are smaller than a red blood cell and are washed away with the patient's blood flow.
'I've watched a pair of pallid feet turn healthy pink as the doctors use our Diamondback 360 PAD System to restore circulation,' said CSI design-services manager Christopher Narveson. 'The procedure can help a homebound patient get up and walk overnight. It can also eliminate the need for amputation, which has devastating lifestyle consequences.'
The Diamondback 360 is presently FDA-approved for use in limb arteries and will begin clinical trials for coronary artery disease this year.