Artemis Intelligent Power received the award last night from HRH Prince Philip, the Duke of Edinburgh. The company's technology can also be used to reduce the fuel consumption of trains and make hybrid buses more affordable.
But it is offshore wind power where the Edinburgh firm could make the most impact. Although Britain could generate 8-10% of its energy from this source by 2020, and already provides 15 terawatt hours (TWh) of electricity each year, the cost of the technology makes its deployment challenging.
A single offshore wind turbine with power output of 3.5MW can power around 3,300 households. Vast numbers are therefore required for even a small city. The company states that by increasing the capacity, efficiency and reliability of each one, these problems could be significantly reduced.
Its Digital Displacement system combines hydraulics with analogue control with a system of digital microcontrollers that switch each individual cylinder on and off in real time as the shaft rotates. This combines the advantages of hydraulics – high power density, compactness, and low cost – with the efficiency of electric technology.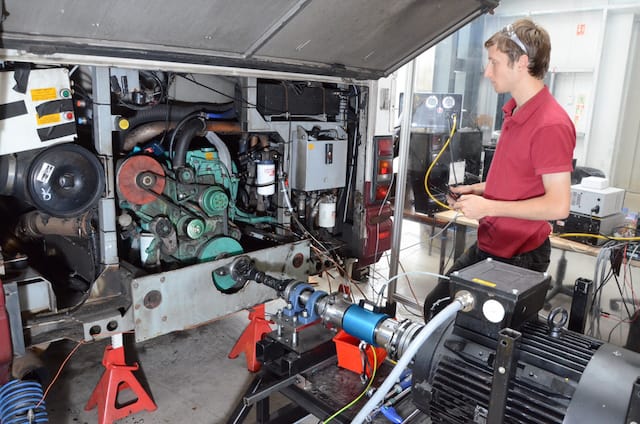 "We've demonstrated machines at 97% efficiency. That is unheard of in hydraulics," Artemis managing director Dr Niall Caldwell told The Engineer. "It is a dramatic improvement that allows you to build a hydrostatic transmission system from shaft to shaft with a pump and a motor that is competitive with electric technology."
This meant hydraulic transmissions could be used for offshore wind, as opposed to conventional gearbox transmission systems. The hydraulic systems could prove to be more reliable, Caldwell said, reducing offshore wind turbine downtime and maintenance costs. "There is a big issue in terms of the reliability of offshore wind turbine gearboxes, and, if they do start failing, how they are going to be repaired quickly and cost-effectively."
Artemis, which has been going for more than 15 years, is owned by Mitsubishi Heavy Industries. In 2014, Artemis's Mitsubishi joined forces with Danish company Vestas to form a new joint venture dedicated to offshore wind turbines.
Since its formation the digital hydraulics technology has been scaled up from a 1.5kW machine by a factor of about 5,000 to demonstrate a 7MW wind turbine, Caldwell said. "The technology has the potential to rejuvenate the conventional hydraulic power supply chain in the UK."
The first turbine in the UK is deployed adjacent to the Hunterston nuclear power station, on the coast of Ayrshire, Scotland. The world's largest offshore floating wind turbine is also employing it, offshore of the Fukushima plant in Japan.
Floating platforms are necessary there because of the depth of the water, Caldwell told The Engineer.
Artemis scooped the prize against competition from Cambridge firm Endomag, which manufactures medical technology for detecting breast cancer. Blackpool's Victrex, which develops advanced polymers in ultra-thin sheets for use in smartphones, was the other contender.