Mulalo Doyoyo, an assistant professor in Georgia Tech's School of Civil and Environmental Engineering, has developed a structural material using the fly ash and bottom ash left over from coal-burning power plants.
Known as Cenocell, the material offers attributes that include high strength and light weight - without the use of cement, an essential ingredient of conventional concrete.
With broad potential applications and advantages, such as good insulating properties and fire resistance, the 'green' material could replace concrete, wood and other materials, in a broad range of applications in construction, transportation and even aerospace.
'Dealing with the ash left over from burning coal is a problem all over the world,' said Doyoyo.
'By using it in real applications, our process can make the ash a useful commodity instead of a waste product.'
Though for competitive reasons he will not disclose the precise chemical composition of Cenocell, Doyoyo said that the processing involves mixing the ash with organic chemicals.
The chemical reaction produces foaming, and results in grey slurry that resembles bread dough.
The material is then placed in forms and cured in ovens at approximately 100C until the desired strength is attained.
Unlike concrete, which remains a mixture of materials held together by chemical bonds, Cenocell is a homogenous material.
The cell sizes and final strength depend on both the curing time and size of the ash particles used.
Estimates suggest the material could be manufactured for an average cost of $50 per cubic yard.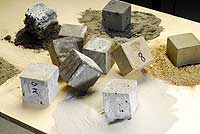 Mulalo Doyoyo, assistant professor in the Georgia Tech School of Civil and Environmental Engineering, poses with samples of the material produced from coal ash