A 22m long airship, originally developed by balloonist and adventurer Per Lindstrand, could become the latest addition to BAE Systems' growing portfolio of autonomous systems.
BAE Systems designers and engineers are working with Lindstrand Technologies to update the original design of the so-called GA22 airship so that it can carry payloads such as high-tech surveillance equipment up to 150kg in weight to heights of more than 6,500 feet.
In addition, it is being made from a newer and lighter material, which should improve the airship's performance. At the moment , the GA22 is radio controlled, but BAE engineers plan to make it fully autonomous.
The GA22 airship itself made its debut in 2004 when Lindstrand delivered the unmanned vehicle to to the Spanish Ministry of Defence. The airship carried a 42kg payload which was used on a classified surveillance mission.
BAE representatives believe that the redeveloped airship, once complete, could be deployed into roles as diverse as monitoring forest fires or acting as communications relay stations.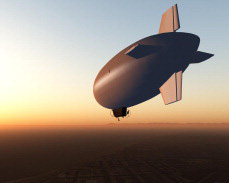 The company also announced this week that a team of its engineers, working with others at Cranfield Aerospace and the National Flight Laboratory Centre at Cranfield University had achieved a major breakthrough in unmanned air systems technology, flying a series of missions totalling 800 miles in a specially modified Jetstream passenger plane without any human intervention.