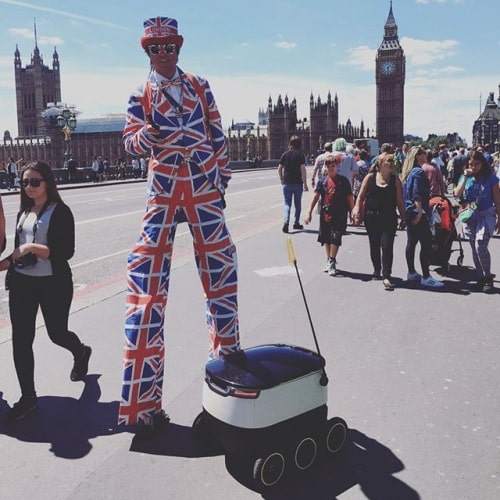 Set up by Skype co-founders Ahti Heinla and Janus Friis, Starship has been testing its six-wheeled bots across 40 cities since the end of last year, clocking up about 5,000 miles so far without incident. The next phase of the programme will see the company team up with partners including Just Eat and Hermes to begin 'last-mile' deliveries of food, groceries, and parcels.
Travelling on paths at approximately 4mph, the battery-powered bots are designed to operate in a 2-3 mile radius. They use predominantly off-the-shelf components that include GPS and a nine-camera computer vision suite, all overseen by proprietary software. The bots map their surroundings as they travel, with the level of autonomy increasing the more time they spend in a designated delivery area.
"The robot will be operating in a neighbourhood, say nine square miles," Starship's marketing and comms manager, Henry Harris-Burland, told The Engineer. "In order for the robot to drive autonomously within that neighbourhood it would have to map the area. It uses computer vision to do that, meaning it analyses straight lines from its nine cameras, and it's analysing thousands of lines every second, which builds a 3D map of the environment around it. After it's built that map it can then operate autonomously in that neighbourhood."
According to Starship, the goal is to achieve 99 per cent autonomy, with one human overseeing 100 bots. If a robot gets into a situation where intervention is required, the operator can step in and take control remotely.
"We don't actually want 100 per cent autonomous driving," said Harris-Burland. "We do always want a human overseeing the robot and its journey, and intercepting if it's ever needed."
The robots are also equipped with a sensor suite for obstacle detection, allowing them to navigate safely around pedestrians. Under normal circumstances, while travelling on pathways, this 'situational awareness bubble' extends to about 7-10 metres.
"That increases when (the robot) is crossing the road," Harris Burland explained. "It can see up to 200m away, because that's obviously one of the most dangerous areas of the robot's journey."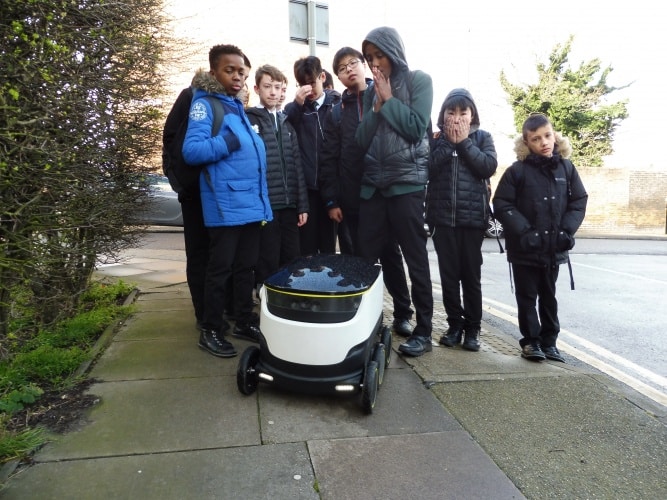 Lidar was deliberately omitted due to both its high cost and the relatively low speeds at which the robots travel. The thin, far-reaching beam of Lidar can be a key component for autonomous vehicles travelling at high speeds. However, the technology would be practically redundant on the Starship bots, which have a stopping distance of about 30cm.
The robots can tackle kerbs up to a height of around 20cm, and can also operate in snow about 20cm deep. Amazingly, after 5,000 miles of testing there is yet to be any type of serious incident, including collisions, thefts or attacks.
"To date we haven't had any 'kidnap' attempts or attacks," said Harris-Burland. "The robot does have many theft prevention measures if anything was to happen. When we've got thousands of robots out there then the chances increase of course."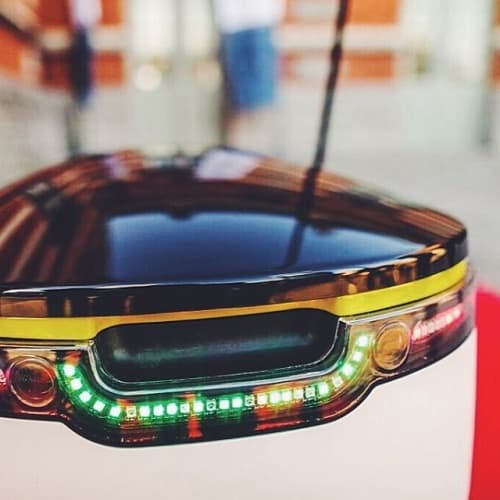 "As I said, the robot has nine cameras - front, back and sides - and they can be recording as well. So an incident could be placed on YouTube immediately. It also has two-way audio, which means that we can listen and talk to people around the robot. We can have human interaction and engage with people, which is quite interesting. On top of that there's also alarms if you pick up the robot, and the lid is of course secured and locked during transit."
"We've found that if you try and put your leg through the top, all that happens is that your leg gets trapped, and you end up walking around with a massive robot on your leg. It's quite embarrassing."
If someone is determined to break in, they will likely be rewarded with no more than a pint of milk or a Chinese takeaway. When a robot reaches its destination a pin code is sent to the recipient, who then enters it on their phone or tablet to gain access to the cargo.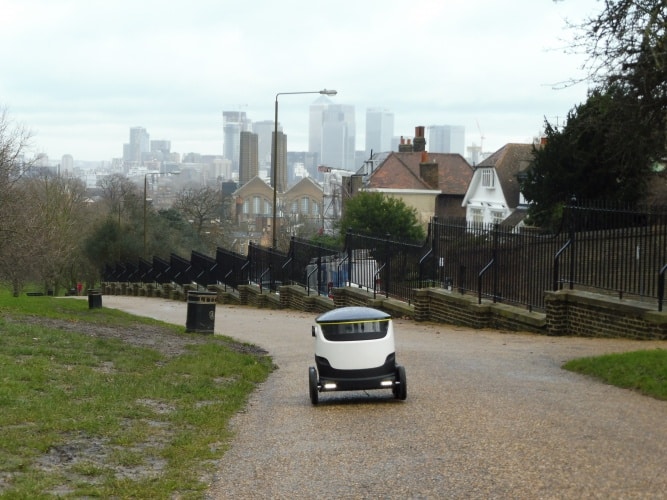 Most of the London trials so far have taken place around North Greenwich, where Starship's UK business office is based. The commercial partnerships that are part of the next phase of testing will see Starship expanding into other areas as they begin deliveries in urban neighbourhoods. If all goes according to plan, the sight of the six-wheeled bots will soon be a familiar one across the capital, and they could become a mainstay in cities around the world in the not-too-distant future.