A robotic hand has won the Best Innovation Award in Sweden's annual Unga Forskare Young Scientists competition.
The hand was designed and built by 19-year-old Kristianstad student Johan Hjalmarrson, originally as a school project. It then went on to win a regional innovation award before progressing to the national finals.
The hand uses a bicycle chain for joints, while springs extend fingers made out of lightweight aluminium pipes.
Six Thomson LA-1 linear actuators - more usually found in industrial applications where space is at a premium - are used to pull wires connected to each finger in order to close them again.
While the fingers only close in one direction - like a fist - the thumb is much more manoeuvrable. This makes it look more human and gives the whole hand a greater selection of grips.
The fingertips are made of rubber and the palm also has a rubber plate to increase its grip. The result is a hand that can grip a variety of useful objects, from a piece of paper to a pen and a drinking bottle.
'My prototype is currently manipulated by five joysticks, one for each finger. However, I'm now hoping to be able to integrate a nerve-impulse-driven control system,' said Hjalmarrson.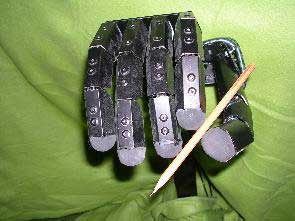 Johan Hjalmarrson's award-winning robotic hand