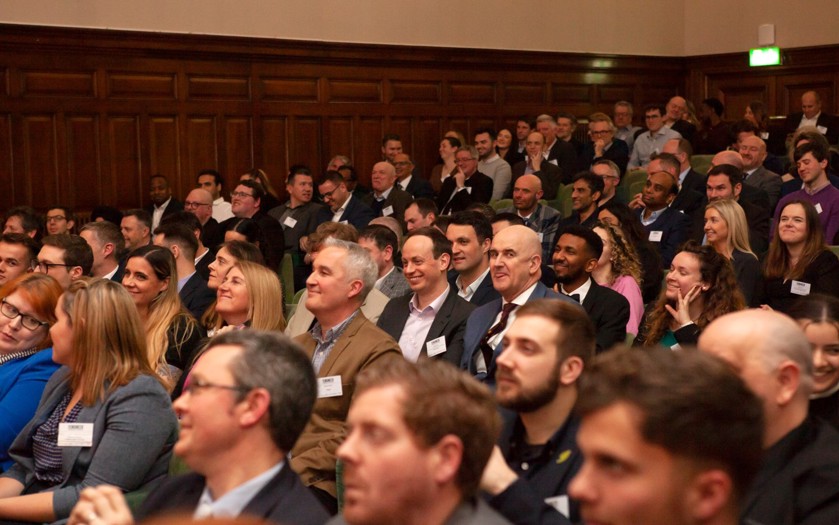 Finalists at the 2022 C2I Awards presentation
Now open for entries, C2I was launched to uncover and celebrate great examples of engineering collaboration – a dynamic critical to addressing many of the challenges and problems faced by society.
Commenting on Babcock's support for this year's competition, Engineering Director Neil Young said: "Innovation is fundamental to our future business success, and so is how and where we collaborate. For Babcock, it's the strength of the people and the organisations we partner with that really makes a difference to the work we do and deliver,  so I'm delighted that we're supporting this prestigious event once again and I'm really looking forward to seeing this year's innovators step up to the challenge."
The competition is open to innovative technology led projects which are underpinned by collaboration between two or more separate organisations and which have had, or are likely to have, a positive impact in their area of application.
Entries are invited from projects addressing challenges across eight categories, including automotive; aerospace, defence and security; information, data and connectivity; healthcare and medical; energy and environment; and manufacturing technology.
Commenting on the launch of the awards The Engineer's editor Jon Excell said: "Collaboration is critical to solving some of the biggest challenges we face and the C2I awards was set up to celebrate this. Myself and the C2I judging panel are really excited about seeing what fascinating projects and innovations this year's competition uncovers."
Entries will be judged by a panel of industry leaders including Neil Young, Engineering Director, Babcock International; Alan Newby, director of aerospace technology and future programmes at Rolls-Royce; Sue Simmonite, global management and control director at BAE Systems; Abbie Hutty, Lead Systems Engineer, iSpace Europe, and Dr Rachel Bishop, Deputy Director, Research Base at the Engineering and Physical Sciences Research Council
Alongside Babcock other sponsors and supporters include:  Engineering UK, EPSRC, EJOT, Hays Recruitment, The Science and Technology Facilities Council (STFC), and Megger.
The closing date for entries is midnight on Friday 8th September and the winners will be revealed at a drinks reception on the evening of Thursday 29thFebruary ay One Great George Street, London.