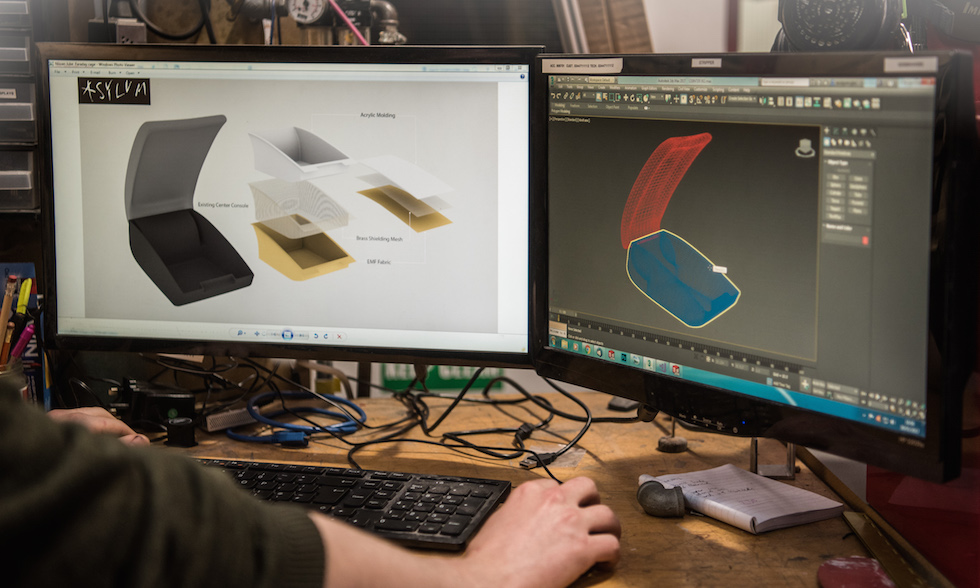 The Nissan Signal Shield is a prototype compartment within the armrest of a Nissan Juke that is lined with a Faraday cage. Once a mobile device is placed in the compartment and the lid closed, the Nissan Signal Shield is said to block the phone's incoming and outgoing cellular, Bluetooth and Wi-Fi connections.
Nissan said the concept is designed to give drivers a choice about whether to eliminate the distractions caused by text messages, social media notifications and app alerts that smartphones receive each day.
If drivers want to listen to music or podcasts stored on their smartphone, they can still connect to the car's entertainment system via the USB or auxiliary ports. To restore the phone's wireless connections, drivers can open the armrest to reveal the compartment – which can be done without taking eyes off the road or touching the phone itself – and the phone can reconnect with the mobile network and the car's Bluetooth system.
The concept works on the principle of the Faraday cage, an enclosure made of a conductive material, such as wire mesh, which blocks electromagnetic fields. When an electronic device, like a smartphone, is placed inside, any incoming electromagnetic signals are distributed across the cage's external conducting material and so prevented from reaching the device.
Alex Smith, managing director, Nissan Motor GB said; "Mobile phone use at the wheel is a growing concern across the automotive industry, and indeed society, particularly with the high number of 'pushed' communications, such as texts, social media notifications and app alerts that tempt drivers to reach for their devices."
"The Nissan Signal Shield concept presents one possible solution for giving drivers the choice to remove all smartphone distractions while driving. This is about delivering more control at the wheel, not less. Some drivers are immune to the activity of their smartphone, but for those who struggle to ignore the beeps and pings, this concept provides a simple solution in this very 'connected' world we live in."
According to the RAC, the number of drivers admitting to handling their phone in the car has increased from eight per cent in 2014 to 31 per cent in 2016. Users are becoming habitually more tempted to check text messages and notifications as they appear on their phone's screen, even if they are driving. Nissan's own research found almost one in five drivers (18 per cent) admitted to having texted behind the wheel.