Bacteria play a role in many industrial processes from fermentation to cleaning up environmental pollution. But floating freely in solution, the microbial cells constantly multiply, generating biomass that must be periodically removed.
Scientists at the US Department of Energy's Brookhaven National Laboratory and Stony Brook University have devised a way to encapsulate bacteria in a synthetic polymer hydrogel that could solve the problem.
These new, stable, bio-hybrid materials maintain the microbes' ability to exchange nutrients and metabolic products with their environment, and could find widespread applications as biosensors, catalysts, drug-delivery systems, or in wastewater treatment systems.
'Our goal is to develop synthetic biofilms in the form of bioactive materials that could be produced reliably on an industrial scale, and used or reused continuously. The generation of a very thin polymeric fibrous material in which microbes maintain their ability to function represents a significant step toward achieving that goal,' said Dev Chidambaram, Brookhaven Lab materials scientist.
Previous attempts to encapsulate viable bacteria in insoluble materials suffered from several shortcomings, according to the researchers. Foremost, the encapsulating materials were usually orders of magnitude larger than thin films.
Because nutrients or reactants had to diffuse far into these materials to reach the microbes, activity and microbe viability suffered as a consequence.
To overcome these problems, the Brookhaven-Stony Brook team used a technique called electrospinning to produce their polymer filaments. In this process, a polymer solution containing the microorganism of interest is spun to create fibres.
The bacteria they chose to encapsulate - from the genera Pseudomonas, Zymomonas, and Escherichia - already have industrial applications, such as fermenting glucose to produce ethanol (a key reaction of biofuel production from plant matter).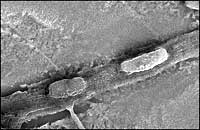 This scanning electron micrograph shows rod-shaped Zymomonas mobilis in the cross-linked polymer fibres. These bio-hybrid materials are insoluble in water, and the bacteria remain immobilised but viable for applications in biotechnology. This particular microbe is used in the production of bioethanol