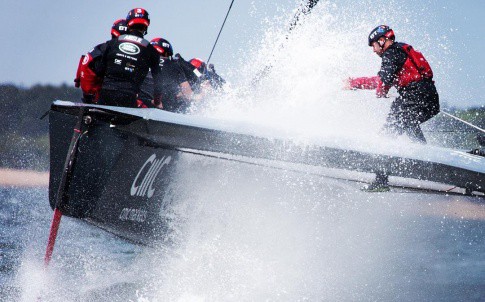 Initially developed for the defence sector to enable soldiers to communicate on the battlefield, the technology uses the body's natural ability to transmit sound through bone. BAE Systems has now adapted the system for Land Rover BAR, allowing the sailors to keep both their ears free for external sounds, while at the same time enabling clear communication in the harsh conditions frequently experienced on board.
"We've heard from Land Rover BAR how clear and accurate communication is essential to a winning sailing team," said Mohammed Akhmad, principal scientist at BAE Systems.
"The system we have developed is able to deal with the large amount of background noise, which can affect the clarity of the speech being transmitted, and is also rugged enough to operate in the extreme conditions sailors are regularly put through."
According to BAR team member Matt Cornwell, any type of crew headset was considered a luxury until relatively recently. But while traditional headsets could be of great value in settled weather, the high speeds and soaked environment of America's Cup competition often rendered them useless.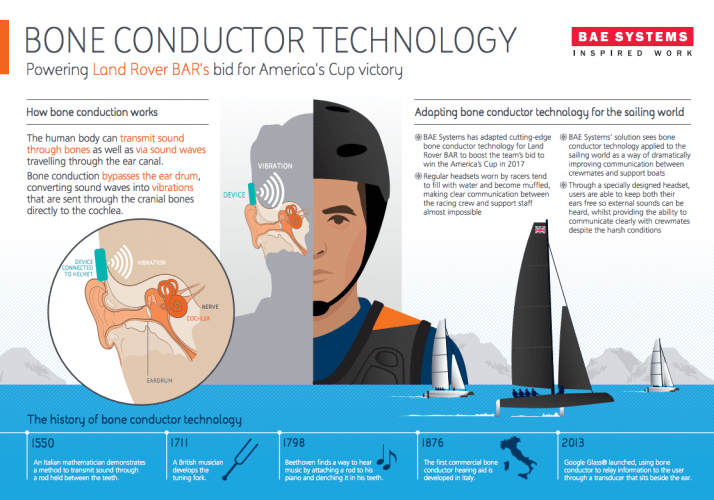 The prototype BAE Systems headset creates physical vibrations from an audio signal that travel through facial bones into the inner ear. These vibrations are then translated into nerve impulse signals which are delivered to the brain, allowing the user to hear audible sound even when sailing at speeds up to 50mph.
"On board communication is something that we have identified as a real performance differentiator," said Cornwell. "We have had to step up our game from the pre-2010 era when a headset was 'a nice to have' and you could get the job done with some fairly basic kit. Now we are having to get much more sophisticated, which is why BAE Systems' support and expertise is so important to the future successes of our team."
Members of the public can experience the headset themselves at Land Rover BAR's Tech Deck exhibit in Portsmouth, which showcases the technology the team will be using in its attempt to win the America's Cup in 2017.