A team of researchers at NASA's Langley Research Centre has equipped a fleet of commuter aircraft with instrumentation that can help bring better weather information to pilots and forecasters.
The so-called Tropospheric Airborne Meteorological Data Report (TAMDAR) instrument has been fitted onto 64 Mesaba SAAB 340 aircraft belonging to Minneapolis, MN-based Mesaba Airlines.
The TAMDAR allows aircraft flying below 25,000 feet to automatically sense and report atmospheric conditions. Observations are sent by satellite to a ground data centre that processes and distributes up-to-date weather information.
The instrument itself was developed by the Georgia Tech Research Institute and AirDat of Morrisville, NC, for NASA's Aviation Safety and Security Program. The 1.5 pound instrument measures humidity, winds, pressure, temperature, icing and turbulence, while location, time and altitude is provided by a built-in Global Positioning System.
The TAMDAR team has already validated the technology in previous ground and flight tests. The Great Lakes Fleet Experiment, started in January, is assessing the performance of the sensor on the aircraft, testing the instrumentation in an operational environment for the first time.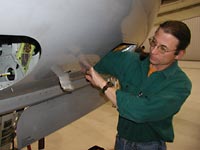 Private industry, meteorologists, researchers and scientists at weather forecast offices are part of the partnership that will analyze the data.
The data the team collects could also benefit all weather forecasts and weather forecasting models, because it increases the number of observations in the lower atmosphere. There are only 90 weather balloon sites in the US used to collect temperature, wind and moisture data from twice-daily atmospheric soundings. The Great Lakes Fleet Experiment will add 1300 more daily atmospheric soundings.