The Bloodhound aims to break the world land speed record by achieving the supersonic speed of 1,000mph, which will require contribution from the world's leading engineering and technology companies.
The design and production team from Bloodhound recently visited Newburgh Engineering, based in Rotherham, to assess its facilities and take a factory tour, with a view to using their specialist skills and equipment. The technicians in the team were impressed with the company's ability to manufacture a range of high precision engineering components, particularly its milling capability, which can cope with sizes up to 60 ft.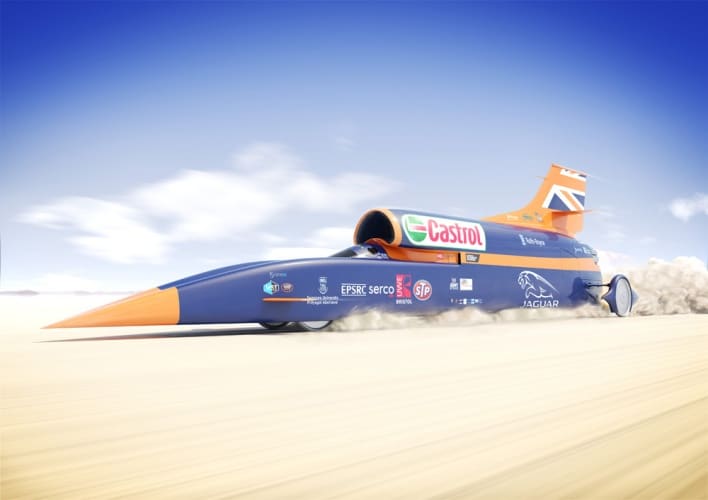 The team from Bloodhound invited Newburgh Engineering to become a Product Sponsor, which will see them providing precision components and assemblies for the internal assemblies and chassis elements of the supercar.
David Greenan, Operations Director at Newburgh Engineering, explains: "We were delighted to become product sponsors of the Bloodhound. As this is a high precision project, we have the expertise and equipment to ensure the absolute product integrity of the project. At the speeds being attempted by the car, high quality precision components are essential and our team of qualified engineered are looking forward to demonstrating their skills."
Newburgh Engineering works with several schools and colleges in the South Yorkshire area and will be using its involvement in the world land speed record to inspire students about the career opportunities within engineering.
The design and construction of the supercar are expected to take three years, with the record attempt taking place in 2011. The 12.8 metre Bloodhound will be powered by both jet and rocket propulsion that should help it to smash the current world speed record of 763mph set by Brit Andy Green in 1997.
Bloodhound will be built and piloted by the same partnership that guided the current record holder - the ThrustSSC - to a shade over 763mph twelve years ago in the Black Rock Desert, Nevada. This time around, project leader Richard Noble OBE and driver Andy Green OBE aim to blast through the 1,000mph barrier.
For more information on Newburgh Engineering, telephone: 01709 724260 or visit the website www.newburgh.co.uk.