Claimed to be the world's most sophisticated urban micro-mobility vehicle, the Bo M two-wheeled e-scooter looks set to give urban riders the smoothest, safest and most stable ride of any vehicle in its class.
Bo M's numerous features include 50km range, integrated Lock and Load hooks, an 800 lumens front headlight, a top speed of 21mph, and 80 per cent recharging in under three hours.
In August 2023, The Engineer headed to the Olympic Park in Stratford, London, to test ride Bo M with company co-founder and CEO Oscar Morgan.
It is very easy to get going on the 22kg e-scooter: simply push Bo M forward, step onto the vehicle's 'Airdeck', toggle the accelerator and you are mobile.
Immediately apparent was the smoothness of the ride – very little vibration from the ground could be felt - and that the steering column had been designed in such a way that losing control was nigh on impossible.
Key to Bo M is its Monocurve chassis, a unibody structure designed to allow the integration of multiple innovations without adding complexity for the user.
"The reason it is important is it is the first ever welded aluminium monocoque structure in our space," said Morgan. "It gives us package space but also it means we have a separate steerer column like a steerer shaft, so we fit our Safesteer mechanism around that."
Morgan added: "Little things like physics is something on our side - rather than having two bearings 50 mil apart with a lever a metre long trying to destroy them, we now have two bearings a metre apart with a little lever. It is all those little things that start to shift this from being 1,000kms and throw it away to a 10,000kms and service it. It is a very different psychology."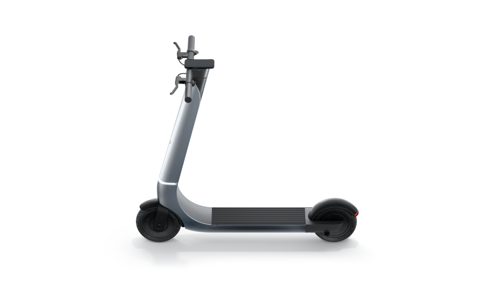 Bo M's handle bar measures 580mm and offers a 76 degree steering angle. On steering it is apparent that the handlebar wants to resume its original, centred position. This is due to opposing force from a pair of bespoke wound torsion springs housed in a Bo mechanism that delivers predictable steering correction up to a 50 degree turn angle. This system works to recreate the natural centring dynamic of a larger wheel.
"Safesteer is a great system," said Morgan. "I would say that on this vehicle type, something that maybe people haven't got their heads around yet, or aren't aware of, is that 80 per cent of it is just about geometry.
"We did a huge study of wheelbase, board width, head angle, bar width and the effect that had. I would say most of what you were feeling when you were riding is just basic good geometry. Safesteer is almost like the cherry on the cake. It just means that if you hit a pothole you have loads of margin for error…to look after yourself."
The smoothness experienced during TE's test ride can be attributed to the pneumatic wheels and the Airdeck that the rider stands on.
Airdeck is an engineered elastomer footpad created from 11mm EVA anti-vibration foam. The lightweight deck panel is tuned to reduce road vibrations, removing the need for complex, heavy and largely ineffective suspension systems and increasing the riders comfort on longer rides by isolating the feet from any vibrations from the road surface.
Morgan explained that when setting up the suspension on a car, the suspension is specified to the car with the vehicle occupant accounting for a circa 10 per cent delta.
"It is a very minor difference to the set-up which you can even account for," said Morgan "But for us, as a minimum the rider is doubling the weight of the vehicle and if it is a big rider they might be 400 per cent of the scooter, or maybe more.
"So, what do we spec the suspension for? As a result, the systems just don't work. You are either massively over-sprung or massively under-sprung. And we found that the elastomer layer and great tyres does all the heavy lifting for you, so why fit a system that is going to break and cost money?"
Bo M's powertrain features a high torque motor, providing a peak power output of 1200W and a top speed of up to 21mph, with a battery capacity of 655Wh delivering a range of 50km.
"We didn't want to start developing our own motors because we basically want that if somebody so chooses they are not reliant on us for their parts and their support" said Morgan. "They can fit off-shelf if they want to when they are doing servicing. The approach we took was to optimise an off-shelf unit and to get super granular about it - the efficiency of the motor is a product of the winding of the internals and so we have gone for a much finer copper and a much, much higher number of windings because it gives us a much flatter torque curve."
The Bo M concept was revealed last year and has since undergone a series of refinements to get it ready for production. Bo M ships from February 2024 at an rrp of £2249.
Technical Specification
RRP

£2,249

Shipping from:

February 2024

Where to buy:

Online from www.bo.world

Launching initially into UK, followed by USA

Motor peak power:

1,200W

Motor rated power:

500W

Motor torque:

over 30Nm

Top speed:

35kph

Max rider weight:

100kg

Vehicle weight:

22kg

Battery capacity:

655Wh

Range:

50km

IP Rating:

IP65

Active safety:

Safesteer(TM) steering stabilisation

Chassis:

Aluminium Monocurve

Tyres:

10x2.5" Pneumatic tyres

Deck:

Airdeck vibration attenuating deck, engineered elastomer.

Bag carrying / Locking:

Lock and Load hook system:

2x forged aluminium loop locking points

2x bag carrying hooks

Grips:

Silicone vibration-damping

Front headlight:

3x LED, 800 Lumen, Aluminium casing, automatic temperature control

Front daytime running light:

270 degree, 120 Lumen 99 LED array

Rear light:

60 Lumen 34 LED array, flashing brake light

Front brake:

Sealed drum brake, right-side brake lever,

Rear brake:

Regenerative e-brake with e-ABS, left-side brake lever,

Display:

LED Battery Level Indicator

Mous Intralock(TM) integrated phone mount system

Charge time:

<3hrs to 80%, Fast charger

App:

iOS and Android, Bluetooth