The failure of its so-called 'top kill' measure, which tried to stop the leak by pumping mud into the well, was announced this weekend.
BP is now preparing to lower a containment cap over the well to pipe the leaking oil to a drillship on the surface. This process will involve deploying remotely operated vehicles (ROVs) undersea to cut through the damaged riser at the top of the rig's failed blow out preventer (BOP). The robots will then position the containment device.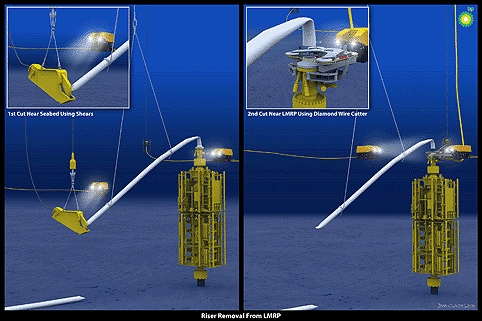 In its company statement, BP admitted the challenges involved with this procedure are numerous.
'All of these operations, including the cutting of the riser, are complex, involve risks and uncertainties, and have to be carried out by ROVs at 5,000ft under water.'
It also stated that systems such as the containment cap have never before been deployed at these depths and conditions, and their efficiency and ability to contain the oil and gas cannot be assured.
The company anticipates the attachment of the cap will be attempted later this week. However, operational delays could impact anticipated time frames.
BP has stated it is continuing efforts to collect and disperse oil that has reached the surface of the sea, to protect the shoreline of the Gulf of Mexico and to collect and clean up any oil that has reached shore.
More than 1,600 vessels are now involved in the response effort, including skimmers, tugs, barges and recovery vessels. Operations to skim oil from the surface of the water have now recovered, in total, some 321,000 barrels (13.5 million gallons) of oily liquid.
The total length of containment boom deployed as part of efforts to prevent oil reaching the coast is now more than 1.9 million feet, while an additional 1.8 million feet of sorbent boom has also been deployed.
So far, approximately 30,000 claims have been submitted and more than 15,000 payments have already been made, totalling some $40m (£27.5m). BP has received more than 110,000 calls to its helplines to date.
The cost of the response to date amounts to about $990m, including the cost of the spill response, containment, relief well drilling, grants to the Gulf states, claims paid and federal costs.
BP stated it is too early to quantify other potential costs and liabilities associated with the incident.