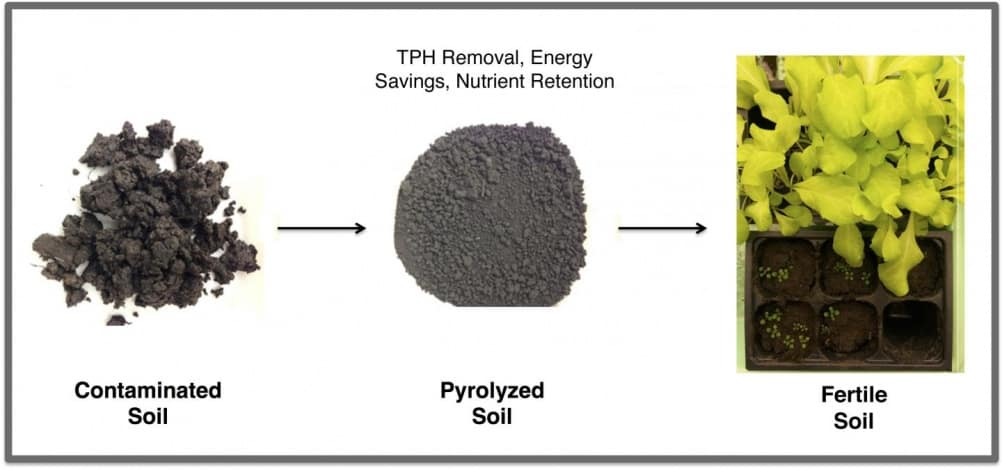 Their work, which appears in the American Chemical Society journal Environmental Science and Technology, involves a process called pyrolysis, where contaminated soil is heated in the absence of oxygen. After three hours of pyrolysis, the amount of petroleum hydrocarbons in the soil had been reduced to well below the 0.1 per cent threshold outlined in US environmental regulations. The process also increased the soil's fertility by transforming the remaining carbon into char.
"We initially thought we could turn the hydrocarbons into biochar," said Pedro Alvarez, chair of Rice's Civil and Environmental Engineering Department. "We turned out to be partly wrong: We didn't get biochar, but [we got] a carbonaceous material that we call char and resembles coke."
"But we were correct in thinking that by removing toxic pollutants and the hydrophobicity that repels water that plants need, and by retaining some of the carbon and perhaps some of the nutrients, we would enhance plant growth."
To test the treated soil, the team used it to grow lettuce in the lab. Although no single plant is used for standardised testing of toxicity, lettuce is widely accepted to be sensitive to petroleum toxins, according to the Rice team. But despite successfully growing lettuce, the researchers have said that treated soil may not ultimately be used for agriculture.
"Reclaimed soil may not necessarily be used to grow food, but it certainly could be used for re-greening: planting grass to minimise erosion and to restore vegetation," said Alvarez.
While offshore spills tend to be on a larger scale and garner wider media attention, 98 per cent of oil spills actually occur on land. According to Julia Vidonish, a Rice graduate student and the paper's lead author, some minor modifications should make the pyrolysis process compatible with existing equipment for decontaminating soil.
"Incineration and thermal desorption are established technologies, and while this is different, there are similarities," she said. "We expect companies can take a mobile, field-scale thermal desorption unit and make a couple of modifications to do pyrolysis."