Will LEDs ever be used in general lighting applications? The folks at Osram would like to have us believe so – they've recently introduced a new six-chip LED package dubbed the Ostar, that can deliver 420 lumen from an operating current of 700 mA - brighter than a 20W low-voltage halogen lamp.
A specially developed hemispherical lens is part of the package. According to the company, the lens improves the efficiency with which light is emitted without affecting the beam characteristics. Basic versions without lenses are also available for customer-specific optics.
The six-chip LEDs produce 420 lumen with a lens and 300 lumen without a lens and sports a power dissipation of 15W, while a four-chip version produces 280 lumen with the lens and 200 lumen without the lens, an operating current of 700 mA and an output of 10W.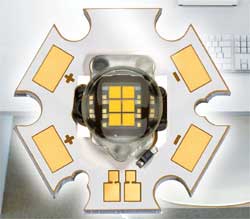 With their high luminous intensity, Osram says that the new LEDs are suitable for a variety of applications in general lighting, including individual workplace lighting, reading lights and car interiors. They can also be used as rapid flashing lights for use in effect lighting or stroboscopes because the strobe mode of operation does not shorten their life.