A project that used the Irish Ferries Ulysses to monitor water quality in the Irish Sea has proven to be a success.
European INTERREG funding via the Welsh European Funding Office enabled the joint project between the University of Wales, Bangor's Centre for Applied Marine Sciences and the National University of Ireland, Galway, with, of course, assistance from Irish Ferries.

Dr. Gay Mitchelson-Jacob, of Bangor's Centre for Applied Marine Sciences said: "We are interested in using colour images to monitor water quality. We wondered whether we'd be able to monitor water quality above the sea surface using sensors placed on the Ulysses. Being the largest-capacity vehicle ferry in the world, the Ulysses provides a very stable platform that hardly ever fails to sail due to poor weather. Instead of relying on satellite images, which are at the mercy of cloud conditions, we have now established the validity of data collected from sensors placed on Ulysses' bridge and have more than a year's data for the Irish Sea."
"The data we receive can be of use to different agencies and for different purposes, such as to detect algal blooms or when poor water quality may affect tourist beaches, even to alert us to cases of accidental spillages at sea. We now hope to automate the whole process and, in collaboration with scientists across Europe, extend this type of survey using other ferry companies."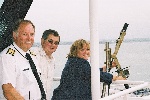 Irish partners at the Department of Earth & Ocean Sciences at the National University of Ireland, Galway have used the partnership to monitor the extent of 'white horses' in the Irish Sea. 'White cap' waves or 'white horses' are important for a number of reasons including air-sea gas exchange at the ocean surface. The Irish partners too were able to improve on data collection for their work. The use of close circuit cameras and digital imaging technology, as used in in-store security systems, has enabled them to collect new data on 'white horses' which will lead to a model for the prediction of white horses under various conditions in the Irish Sea.
Commenting on the successful completion of the project, INTERREG Development Officer, Jonathan Walsh said; "With INTERREG projects we are always looking for cross-boundary benefits for the two regions involved. Focussing on the Irish Sea, this project encapsulates the notion, with both partners developing ways to monitor and manage the Irish Sea."
Environmentalists from bodies including the Environment Agency and Countryside Council for Wales recently attend the project's final Workshop, hosted by Irish Ferries on board the Ulysses.