The three-seater T25 weighs 575kg and is responsible for around 40 per cent less emissions over its lifetime than an average car made today.
Murray's iStream manufacturing process requires 20 per cent of the space of a conventional factory and could encourage more companies to build city cars such as the T25 or Smart models.
'The reason people don't make more A-segment cars is that you don't make any profit on them,' said Murray at the car's launch this week at the Oxford University Smith School's World Forum on Enterprise and Environment.
'The actual capital investment on an A-segment and a C-segment [small family] car is virtually the same. This gives people a true opportunity to make money selling an A-segment car because the capital investment is tiny.'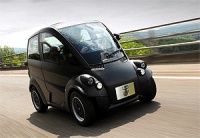 iStream cars comprise a body of mechanically fastened panels made from recycled plastic bottles, around a lightweight composite chassis of thin-walled tubes. 'The total tooling investment for the body is about six per cent of a stainless-steel car, so it's massive change,' said Murray.
The panel system allows owners to quickly and cheaply replace individual sections of the body if they are damaged or alter the entire look of the car, instead of buying a new one.
'To produce 100,000 cars a year on a two-shift day, everything has to be made in less than two minutes and that's why nobody's done this before,' said Murray. 'To make these low-cost panels in under two minutes just hasn't been achievable [until now].'
The iStream system can produce between 15,000 and 200,000 cars a year and production can easily be altered as demand changes. Murray is hoping to licence iStream and the T25 to manufacturers, and has had enquiries from 30 companies from 17 countries around the world.
The T25's engine can carry the car up to 450 miles on a 30-litre tank of petrol, has a fuel economy of 80mpg and produces under 90g of CO2 per km. An electric version of the car, the T27, is also being designed and is expected to be unveiled in April 2011.
Murray said he chose to develop a petrol model first because he wanted to create the most efficient possible vehicle for a market in which most cars still ran on fossil fuels. The T27 is also expected to cost around double the £6,000 predicted price of the T25.
'[Manufacturers] always get the efficiency of the light weight and low lifecycle, whatever the car runs on,' said Murray. 'If you can convert enough people to small footprint cars in the next 10 years, when you get the new energy source you get a double whammy because you've already got the lightweight car.'
He added: 'The other thing was handling. It's the first car in its segment to have fully independent rear suspension. It's got a very low centre of gravity and it handles like a go-kart. It's really good fun.'