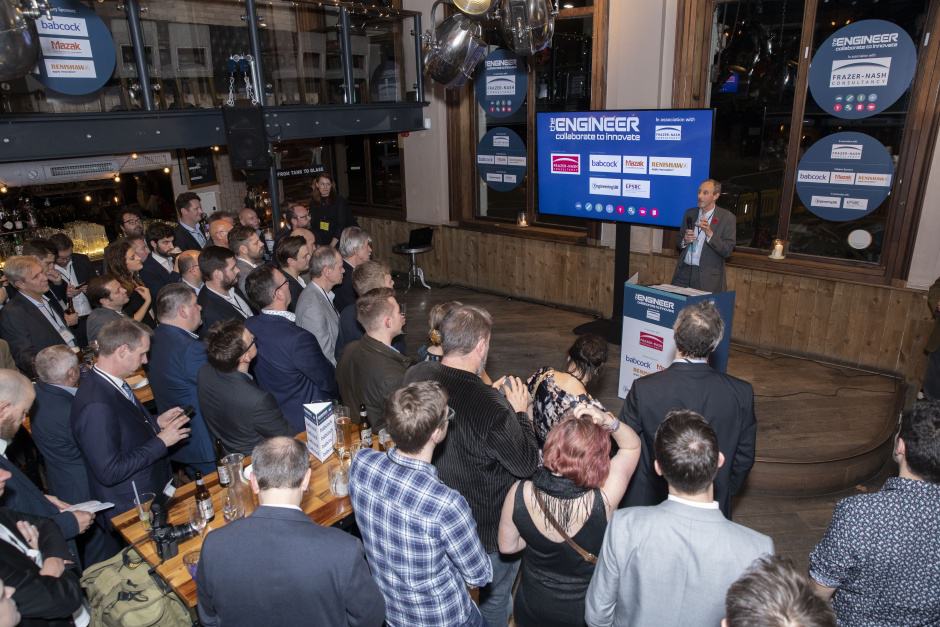 Judged by a panel of leading UK engineers - and sponsored by Frazer-Nash Consultancy - winning entries had to demonstrate that they were innovative, collaborative and likely to have an impact in their field of application.
The event provided a fascinating snapshot of some of the trends and technologies that are defining modern engineering, and also highlighted the degree to which industry and academia are collaborating to solve fundamental problems across a variety of sectors.
Commenting on this year's competition editor of The Engineer Jon Excell said, "We launched these awards  to show how engineers and scientists are working together to tackle some of the biggest issues we face as a society. All of the finalists here this evening demonstrate that, and all of them can be very proud of what they've achieved."
The winners are listed in full below. Click here for more detailed coverage on this year's successful projects
Category: Energy, Efficiency & Sustainability
Balanced Energy Network (BEN)
Icax with London South Bank University, Upside Energy, Origen Power, Cranfield University, Mixergy, TFGI
Category: Healthcare & Medical
Universal Plasma
NIRI with NHSBT, Macopharma
Category: Information, Data & Connectivity
Sponsored by Babcock International Group 
MOVE_UK
Robert Bosch Ltd with Jaguar Land Rover Limited, TRL Limited, The Floow Limited, Direct Line Insurance Services Limited, Royal Borough of Greenwich
Category: Aerospace, Defence & Security
Keyhole Surgery for Jet Engines
Rolls-Royce plc with University of Nottingham
Category: Automotive
UK Autodrive
Arup with AXA Insurance, Coventry City Council, Ford Motor Company, Gowling WLG, Horiba MIRA, Jaguar Land Rover, Milton Keynes Council, RDM Group (Aurrigo), Tata Motors European Technical Centre, Thales, The Open University, Transport Systems Catapult, University of Cambridge, University of Oxford.
Category: Manufacturing Technology
sponsored by Mazak
SitSki
High Value Manufacturing Catapult (HVMC) with Manufacturing Technology Centre (MTC), Warwick Manufacturing Group (WMG), National Composites Centre (NCC), Advanced Manufacturing Research Centre (AMRC), Centre for Process Industries (CPI)
Category: Academic Innovator
Sponsored by Renishaw
South West Nuclear Hub: nuclear energy teaching, research and innovation
University of Bristol with University of Oxford, Sellafield Ltd, EDF Energy, Atkins, Magnox, National Nuclear Laboratory, Kyoto University
Category: Young Innovator - Engagement Initiative 
Sponsored by Renishaw
Living in Space and Young Innovators Programme
SMASHfestUK with Middlesex University, The Refinery, Deptford Green School - Design and Technology Year 9 students, Llangatwg Community School Year 8 students, Haberdashers' Aske's Hatcham College Sixth Form, Christ the King Sixth Form, AstroCymru, Monster Paw Games, Little Inventors, University of Greenwich, Science and Technology Facilities Council, Royal Academy of Engineering, UK Space Agency
Here's what our judges had to say about this year's shortlist:
"The variety we had in the entries was quite inspirational – just seeing how many different domains the UK is pushing the boundaries in inspired me about the future of engineering"
Abbie Hutty, ExoMars Project, Airbus 
"As a first time judge I was taken aback by the amount of innovation, the high standard of the entries and the broadness of the applications across a range of different aspects."
Steve Penver, Babcock International Group, head of data and analytics 
"An impressive range of entries, demonstrating the quality and depth of innovation that's ongoing in the country. It makes me feel optimistic about the future."
Chris Guyott, engineering director, Frazer-Nash consultancy
"I found the level of collaboration quite astonishing – the other thing that comes out is the cross-fertilisation of techniques and technologies from one sector to another
John Halton – Director Business & Industry, Engineering UK  
"Really strong inputs, and strong signals in terms of AI coming to the front,"
Andy Wright – director strategic technology, BAE Systems 
"Such a wide range of high-quality, Innovative and diverse entries really gives you confidence about the opportunities in engineering and what a fun place it is to work."
Alan Newby, director aerospace technology and future programmes, Rolls-Royce Plc  
Collaborate to Innovate is supported by the following organisations: 
Headline Sponsor
Category Sponsors
Partners