The University of Hull and the Hull York Medical School have joined forces with medical device giant, Smith & Nephew Medical, to pioneer a dressing with anti-MRSA properties.
MRSA (methicillin-resistant staphylococcus aureus) has become the scourge of hospitals for a number of years. It is a bacterium from the staphylococcus aureus (SA) family and one in three people carry it on the surface of their skin without developing an infection. If SA gets into the body through a break in the skin it can cause infections. The problem is that while it can be mostly treated with antibiotics, MRSA has become increasingly anti-biotic resistant.
Those in hospitals are more likely to develop MRSA infections because they often have an entry point for the bacteria to get into the body, such as a wound. Around 100,000 people acquire the infection each year, and with the number of MRSA infections increasing across the world, research into combating the so-called 'super bug' has never been more important.
A successful clinical pilot study on the Smith & Nephew product, ACTICOAT – a silver containing antimicrobial barrier dressing – has already been performed, providing initial evidence that ACTICOAT is a highly effective and reliable barrier to the spread of MRSA into the wider hospital environment.
The company is enlisting the help of research centres around the globe, including the Hull York Medical School, to carry out an additional clinical trial of the product to support the results of this first study. Since the University is home to a world-class Wound Care Institute, they are a key partner in this exercise.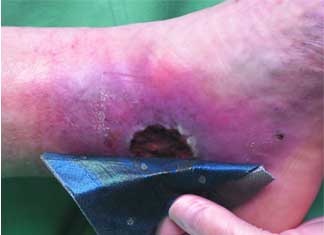 Smith & Nephew's Clinical Project Manager, Carol Hegarty, said: 'This is an extremely important study for us, we expect that the results of this study will provide us with further evidence for the effectiveness of ACTICOAT as a barrier to MRSA cross-contamination and as a bactericidal agent.'
Director of the Hull York Medical School's Wound Care Institute, Professor Philip Drew, said: 'The early signs are that this is a very effective treatment. We hope that this is confirmed in the clinical trial and that the product goes on to make a real difference in eradicating the MRSA super bug from our hospitals and communities.'