NXP - the independent semiconductor company founded by Philips - and STMicroelectronics are to pool their key wireless operations in a new joint-venture.
Combining the design, sales and marketing, and back-end manufacturing assets from both companies, the joint venture will rely on its parent companies and foundries for wafer fabrication services.
It will be responsible for developing products for the UMTS (Universal Mobile Telecommunication System), for the emerging 3G Chinese standard, as well as other cellular, multimedia and connectivity products for the WiFi, Bluetooth, GPS, FM Radio, USB, and UWB (Ultra-wideband) standards. It will also swallow up Silicon Laboratories' wireless and GloNav's GPS operations that were recently acquired by NXP.
Not owning any wafer fabs, the joint venture will operate its own assembly and test facilities in Calamba, Philippines and Muar, Malaysia. NXP's Calamba site will be transferred to the joint venture as part of the deal. In addition, part of STMicroelectronics' back-end operations in Muar will be separated from the parent company's existing facility in the area and transferred to the new company.
Between them, the parent companies expect to save over $250m per year by 2011 by combining their resources in the new venture which will be incorporated in the Netherlands and employ 9,000 people worldwide.
The deal between the two, which is expected to be finalised in the third quarter this year, is still subject to regulatory approvals and labour council consultations.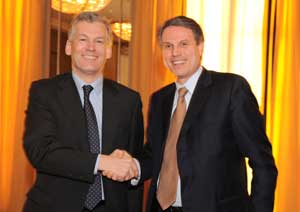 All smiles as the two CEOs, Carlo Bozotti of STMicroelectronics (right) and Frans van Houten of NXP, sign the deal