US auto giant Ford has taken the wraps off a new Land Rover hybrid concept car.
The so-called LRX hybrid concept is described as a cross-coupé, and though it's 5.9in (149mm) shorter than the LR2/Freelander 2 and 8.1in (205mm) lower, it was conceived to appeal to new customers in the luxury and executive sector.
The LRX's 2.0-litre, turbodiesel hybrid is capable of running on bio-diesel, and Ford claims that this feature, In combination with other Land Rover technologies, could reduce fuel consumption by as much as 30 per cent compared with other SUVs of comparable size, and reduce emissions to approximately 120g/km.
The concept's integrated Electric Rear Axle Drive (ERAD) allows the LRX to use electric drive alone at lower speeds while retaining full (even improved) sport utility ability in tough conditions. Unlike the hybrid technology used by some SUV rivals, Land Rover's solution retains mechanical drive to all four wheels.
Off-road, the ERAD provides additional torque only when it is needed, whilst on the road, it allows low-speed traffic creep up to 20mph (32km/h) on electric power alone, with the Integrated Starter-Generator (ISG) function re-starting the engine automatically when needed. The electric drive then continues to assist the mechanical drive until the engine is running in its most efficient range.
The ISG also stops the engine automatically when the vehicle halts in traffic, so the engine does not idle needlessly, and restart it as required.
The electrical drive system uses power stored in a dedicated lithium-ion battery pack, independent of the normal 12V battery. This is charged by a regenerative braking energy system, also working through the ERAD.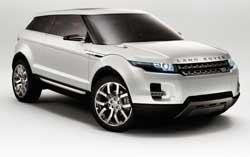 The LRX also incorporates 'Hill Descent Control' and Land Rover's 'Terrain Response' system. On the LRX, this has five modes, including a new 'Eco' mode. Principally for on-road use, this configures all the elements of the vehicle's system for fuel economy. The other four Terrain Response modes provided are sports (also new), general driving, sand and 'grass/gravel/snow' (a single program for slippery surfaces).