Previously codenamed 'Project Natal,' the Kinect sensor plugs directly into any Xbox 360. Despite its small size, the Kinect device contains a camera, audio sensors and motion-sensing technology that tracks 48 points of movement on the human body. It also has the ability to recognise faces and voices.
With Kinect, game players no longer need to memorise different commands for a hand-held control. 'You are the controller,' said Mike Delman, corporate vice president of global marketing for Microsoft's Interactive Entertainment Business. 'You simply step in front of the sensor and Kinect sees you move, hears your voice and recognises your face.'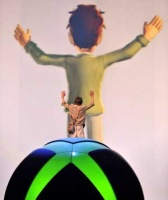 Kinect can perform full-motion tracking of the human body at 30 frames a second. It is not affected by what a user is wearing or what type of furniture is around.
Microsoft wants to use Kinect to reach a broader, new audience by appealing to people who have previously not played games on its system, such as young children, mothers and grandparents.
A variety of games have been launched that support the new Kinect sensor system. These include 'Kinectimals', a game that allows a user to interact with animals on screen; 'Your Shape', a fitness game; 'Kinect Joy Ride', a controller-free racing game; and 'Kinect Sports', which features football, beach volleyball, bowling, table tennis, boxing and multiple track and field events.