A British Columbia start-up company is marketing a versatile line of biocomposite materials to manufacturers worldwide, thanks to researchers at the National Research Council Canada (NRC).
With help from the NRC Industrial Materials Institute (NRC-IMI) in Boucherville, Quebec, JER Envirotech of Delta, British Columbia has developed wood-plastic composite (WPC) materials that combine organic fibres from agriculture and forestry waste with new or recycled polymers, such as polyethylene or polypropylene.
The result is a 'green alternative' that offers the best characteristics of both wood and plastic - better rot-resistance and higher stiffness.
JER's biocomposites are sold in pellet form for use in injection moulding and plastic extrusion. Peter Kelly, chief technology officer for JER Envirotech, said: 'We sell WPC pellets as a raw material to plastic processors, who turn them into commercial products.
'We also produce WPC sheeting for use in many applications such as building materials, flooring and signage.'
JER's customers currently include Centoco, a Windsor, Ontario-based injection moulder of plumbing products and Sprig Toys of Colorado.
Kelly credits NRC for the company's success. He said: 'We are basically in business because NRC patented a WPC formula and licensed it to us. As JER Envirotech grew, we used NRC's labs in Boucherville to test our products.'
The WPC patent grew out of a cooperation agreement between NRC and a Singapore research institute. Blaise Labrecque, strategic adviser for NRC-IMI, said: 'We investigated new ways of combining polymers with biomass, wood residue or other sources of organic fibre. Our challenge was to mix a thermoplastic polymer - one which 'melts' when you heat it - with wood sawdust or rice husk as the fibre reinforcement.'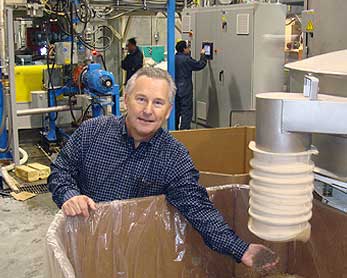 JER Envirotech CEO Edward Trueman holds WPC pellets

NRC's original vision was to distribute its products around the world by setting up production plants close to sources of recycled plastic and organic fibre materials. After building its facility in British Columbia, JER targeted Asian countries such as Malaysia and the Philippines to open up additional production plants where rice husks are cheap and readily available.
The company's current business plan is focused on the North American market with special emphasis on injection-moulded products. Bill Hunnicutt, JER Envirotech's vice-president of global sales, said: 'Offering moulding grades of wood polymers that can be run on existing equipment opens up an extraordinary number of applications and opportunities.'
The company may also license the manufacturing process to third parties in other countries, according to Kelly.