In the last of a number of celebrated tunneling "breakthroughs" (there have been eighteen in total) the project's final TBM  - Victoria - broke through into Farringdon station, marking the end of a painstaking process that began almost three years ago.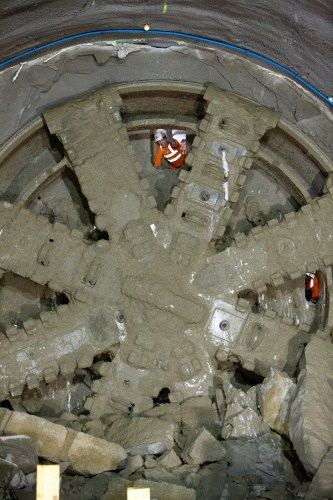 During this process eight 1,000 tonne, £10m machines have excavated and built 26 miles of brand new 6.2m diameter rail tunnels under London.
The majority of the machines used to create the network are so-called earth pressure balance machines (EPB), which vary both their advance rate through the ground and the rate at which they extract waste in order to maintain a pressure on the cutting face and prevent tunnel collapse.
As these machines move through the ground precast concrete segments are ferried to the front of the machine, grabbed by giant hydraulic arms, and put in place to form the lining of the tunnel. The machine propels itself through the ground using hydraulic rams that push against the edge of the last ring built.
You can read more about the engineering challenges behind crossrail here.
Two slightly different machines – known as mixed shield or "slurry" machines – were used to drive the tunnels through the chalk under the River Thames. These devices differ differ from EPB machines in three major ways: they have a sealed, pressurised, air-locked chamber behind the cutter head; they have inlet pipes; and use an outlet pipe rather than a conveyor system to remove the earth.
The first TBM broke ground in May 2012. Since then, 42km of new train tunnels have been created under London. Another 13.5km of new passenger, platform and service tunnels have been constructed within the new Crossrail stations using a technique called sprayed concrete lining.
When Crossrail begins operating in 2018 Farringdon station – the scene of the final breakthrough - will provide direct links between Crossrail, the London Underground and Thamesink and will become become one of the UK's busiest rail hubs.  You can read about the construction of this complex new interchange here.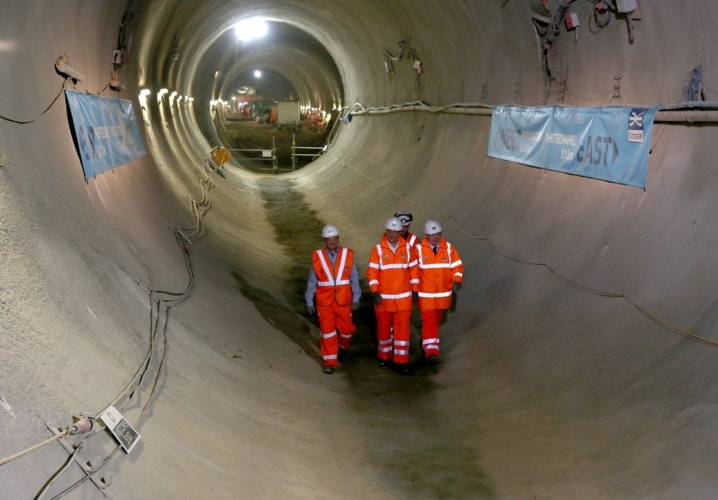 The £14.8 bn railway which runs beneath central London and will link Reading, to the West of London with Essex, to the East. The service will add 10% capacity to London's rail network. And is expected carry around 200 million passengers each year.
Now that tunneling is complete, Crossrail's engineering team – which is led by project delivery construction giant Bechtel – will begin fitting out the stations and tunnels with the necessary systems and equipment to enable Crossrail services to operate. Work will also continue on the surface sections of the route, which are now over one-third complete.
Tunneling by numbers
Six earth pressure balance (EPB) machines and 2 slurry machines were used to carve out Crossrail's tunnels.

Diameter of Crossrail tunnels - 6.2 m

Cutter head diameter - 7.1 m

Typical progress rate of 100 m a week

Total length of each TBM - 148 m

Total weight - 980 tonnes

Cutter head rotation speed - up to 3.19 rotations per minute

Ten hydraulic steering rams near the front of the machine steer the TBM within millimetre precision of its designated alignment

A tunnel gang of 20 people will work with each TBM

250,000 concrete segments have been used to line the 21 km of twin-bore tunnels