The company, which has been supplying low noise precision gearing to military vessels for 70 years, is one of seven businesses named by BAE Systems to execute the first equipment manufacturing contracts for the Royal Navy's next generation warship.
The contracts - worth in excess of £170m and funded by the £859m Demonstration Phase contract that began in April 2015 - will see the delivery of equipment including propulsion, communications and electrical systems for the first three ships in the programme.
Steve Watson, managing director, David Brown Gear Systems told The Engineer that 'tens of millions of pounds' has been invested to develop a semi-derelict area of the company's Huddersfield site into new manufacturing, assembly and test facilities that will accommodate – and de-risk - work on the Type 26.
David Brown Gear Systems, which supplies gear boxes globally to sectors including oil and gas and power generation, first became involved in the Type 26 programme in April 2013 when they were awarded a design and development contract. This was followed in 2014 by long-lead time activities and the subsequent award of a development and manufacturing contract in June 2015. The first gearbox will be delivered to the programme in 2017.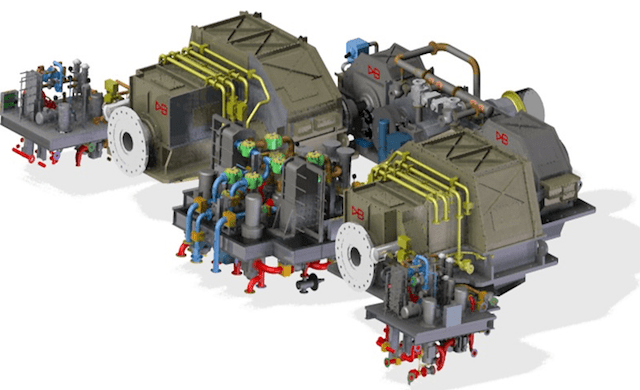 Ancillary parts including forgings and fabrications will be sourced from the supply chain but the bulk of the work on the Type 26 will be carried out at the company's upgraded facilities, which are anticipated to act as a springboard for new contracts in other sectors served by the firm.
Watson said: "For machining the gear case we have a large Toshiba borer for jointing and machining holes and machining ports in the gear cases.
"Then in the assembly and test area its effectively a full test rig so we can lay out the gear boxes as they're going to the ship and do a full test using electric motors to simulate the propulsion system from Rolls-Royce and GE."
BAE System said that under current plans 13 Type 26 ships will be delivered to the Royal Navy. The first vessel is due to enter service in the early 2020s and the Type 26 class will remain in service into the middle of this century.
The Type 26 Global Combat Ship will be a globally deployable, multi-mission warship capable of undertaking a wide range of roles from high intensity warfare to humanitarian aid, operating independently or as part of a bigger force.
BAE Systems' Type 26 contract announcements also involve:
Babcock for the ship's air weapons handling system
GE Power Conversion for the electric propulsion motor and drive system and testing facility
Raytheon for the integrated navigation and bridge system
Rolls Royce Power Engineering for the gas turbine
Rohde & Schwarz UK Ltd for the communications systems
WR Davis for the uptakes and downtakes