Lieng came up with the idea for the 'Deep Penetrating Anchor' - an alternative to box-like suction anchors that are sensitive to high seas and waves - while working at SINTEF, the largest independent research organisation in Scandinavia.
Two of the anchors have already been installed on Statoilhydro's Gjøa field near the Troll field. The anchors, which were manufactured in Lithuania, penetrate 31 and 42m, respectively, into the seabed.
The anchors are not affected by waves and the installation process is the same whether they are being deployed at depths of 500 or 3,000m.
Each anchor starts its descent under cable control, but for the final 75m it drops in free fall until it reaches a speed of 100kph. A remotely operated vehicle (ROV) follows the manoeuvre and transmits an acoustic signal that releases the anchor for the final stage of the descent.
A typical mooring configuration for a platform would consist of 12-16 such anchors located in three or four groups. All the anchors can be carried by a single auxiliary vessel and deployed in the course of a single trip to the field.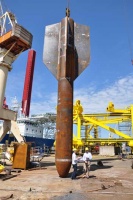 Lieng has set up his own company to market the new anchors.