Enterprise was released from its mothership, dubbed Eve, at an altitude of 45,000ft (13,700m) and flown back to Mojave Air and Space Port by pilot Pete Siebold and co-pilot Mike Alsbury.
According to Virgin Galactic, the two main goals of the flight were to carry out a clean release of the spaceship from the mothership and for the pilots to free fly and glide back and land.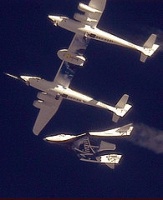 Other flight objectives that were completed successfully include verification that all systems worked prior and following the release of Enterprise; initial evaluation of handling and stall characteristics; and verification of performance by evaluating the lift-to-drag ratio of the spaceship during glide flight.
'The VSS Enterprise was a real joy to fly, especially when one considers the fact that the vehicle has been designed not only to be a Mach 3.5 spaceship capable of going into space but also one of the world's highest-altitude gliders,' said Siebold.
Prior to yesterday's manned mission, Eve had flown 40 times, including four so-called captive flights where Eve and Enterprise remained mated together.
The most recent captive flight took place on 30 September. The most recent solo flight took place on 5 October and demonstrated that all the systems required for a free flight by Enterprise were functioning properly.
'Our challenge going forward will be to complete our experimental programme, obtain our FAA licence and safely bring the system into service at Spaceport America, New Mexico,' said George Whitesides, chief executive of Virgin Galactic.
Enterprise is based around the X-Prize-winning SpaceshipOne and is capable of carrying six passengers and two pilots. Constructed from carbon composites and powered by a hybrid rocket, the space ship is 60 feet long and has a cabin diameter of 90 inches.
Virgin Galactic says it has so far received customer deposits worth $50m (£31.3m).
Future commercial operations will be at Spaceport America in New Mexico where final preparations are taking place for a finished runway inauguration ceremony on 22 October.
Commercial space exploration technology could enable low-cost access to space for both tourists and scientists. Click here to read more.