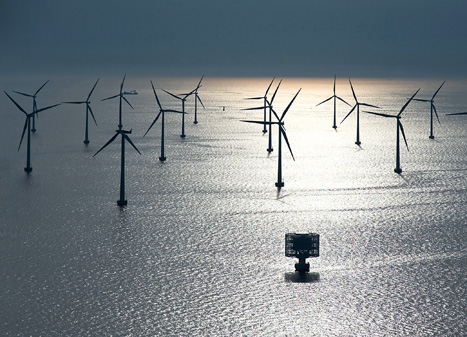 The government's long-awaited Clean Growth Strategy, which aims to set out how the country will meet its commitments to reducing the environmental impact of industrial and domestic activities — especially those related to energy usage — while still encouraging economic growth has been greeted warmly by industry and environmental groups as a "very significant shift" and "worth the wait". The strategy sets out what policies the government aims to use to cut greenhouse gas emissions by 57 per cent over the next 15 years.
The Clean Growth Strategy has had a long and chequered gestation. It began as a carbon plan, which morphed into an emissions reduction plan, and has changed again since the closure of the Department of Energy and Climate Change and the rolling of energy policy into the overview of business secretary Greg Clark with the creation of the Department for Business, Energy and Industrial Strategy (BEIS). Now more closely aligned with the government's overarching industrial strategy, the Clean Growth Strategy and stresses the opportunities presented by environmentally-friendly technologies. "The low-carbon economy could grow at 11 per cent a year between 2015 and 2030, four times faster than the projected growth of the economy as a whole," Clarke writes in his foreword to the 165-page document BEIS has published setting out the strategy.
The strategy sets out paths to improvements in energy efficiency of business and industry along with homes; accelerating the shift to low-carbon transport; delivering "clean, smart, flexible power"; enhancing the use of natural resources including forestry as a carbon sink and source of materials; and improving energy efficiency in the public sector (a small source of emissions, but the government is keen to be seen as leading by example).
Sums to be invested are mentioned in the document, although it isn't made clear whether these are "new money" or part of previously-announced schemes: at total of £2.5bn sunk into low carbon innovation between 2015 and 2021, with 33 per cent of this directed at transport, 25 per cent at power; 15 per cent "cross-sector"; 10 per cent at smart systems, 7 per cent at homes; 6 per cent at industry and 4 per cent at land use and waste. Spending highlights include £20m to support a clean technology early-stage investment fund; £100m on carbon capture, usage and storage (CCUS) with the establishment of a CCUS Council to help drive down costs and move towards large-scale implementation in the UK; support of £3.2bn of investment into upgrade energy efficiency in homes through grants for insulation, with specific mentions for privately-rented housing and social housing; investing £184m, including two new £10m innovation programmes for technologies for lower carbon homes; and £80m on charging infrastructure for electric vehicles.
In the energy sector, the document says, £900m of public money will be invested in innovation, including £265m on smart systems to reduce the cost of energy storage, £460m on nuclear fuels, and £177m on renewable, with wind turbine blades and foundations mentioned as a specific target.
The Energy Technologies Institute chief executive Jonathan Wills commented: "This strategy signals the needed investment in infrastructure which will take a generation to implement, so we must make decisions fast and commit to making it happen."
He was particularly pleased to see announcements on carbon capture, he added. "We can meet our climate targets without CCS, but it will make it more expensive for the country to do so – potentially doubling the cost. With our natural resources as an island providing ample storage capacity, CCS is an opportunity as a country we can't and shouldn't ignore."
Louise Kingham, chief executive of the energy industry group the Energy Institute, said "This breathes new life into decarbonising the UK and the skills that will make it happen. Taking energy efficiency seriously in homes, businesses and industry will cut emissions, bring down bills and increase productivity more effectively than anything else."
Environmental think-tank Green Alliance welcomed the strategy's recognition that the UK benefits economically from leadership in low-carbon technology, but says it isn't ambitious enough on heat and efficiency, compared with its "buccaneering can-do attitude" to low-carbon vehicles.