A floating island city fuelled entirely by 'green' energy has landed a Portsmouth University professor of engineering a place on the shortlist of a national competition.
Prof Carl Ross from the Department of Mechanical and Design Engineering has reached the final five of the 'Britain's Bright Ideas' competition, which involved a national search for energy-efficient ideas, led by energy company npower.
His idea to design a floating island city was the result of his passion for finding a solution to the problems of an overcrowded planet made worse by the threats posed by climate change. Ross believes that floating islands could provide extra space and produce enough environmentally friendly energy from waves, wind and the sun to support their needs.
'There are many islands in the Pacific and Indian oceans that are only a few feet above sea level,' he said. 'If global warming continues and the sea level rises by about 6.7m as predicted, millions of people will be displaced.'
Ross added: 'Some 71 per cent of the Earth's surface is covered in water, so it makes sense for humankind to colonise the oceans for their benefit. If scientists and engineers are given the tools, we can find a solution.'
His plan is for a city above sea level, supported on several concrete tubular pillars with a platform 'resting' on the top made of glass fibre, which is 50 times stronger than concrete under compression. Each island is designed to accommodate a population of around 150,000 and would incorporate all the facilities of a regular city, such as schools, a hospital, leisure facilities, services, industrial complexes and shops.
Ross said: 'I'm thrilled to have reached this far in the "Bright Ideas" contest. I've always wanted to transform one of my ideas into a full-blown invention, so it's great to have the support of some real experts. Maybe in 10 years everyone will be living on a floating island city.'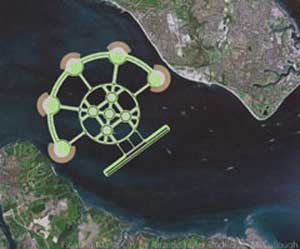 He joins a shortlist of ideas from inventors up and down the country and his competition includes a bicycle-powered USB charger and a domestic water wheel.
The winner of the competition will be announced later this month.