In its current inaugural season, which began last month with a race around the venues of the 2008 Summer Olympics in Beijing, all of the teams are using the same car, the Spark-Renault SRT 01E, which is made by a consortium including Spark Racing Technologies, Dallara Racing, electric motor supplier McLaren, battery manufacturer Williams Engineering and systems integrator Renault. 
'In a year two they can build their own batteries and motors,' Agag said during a Q&A session with fans putting questions via Twitter and Facebook. 'I would expect that we would have three or four makers of batteries and motors.'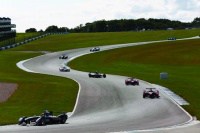 The thinking behind Formula E is that it should drive development of electric power trains and that, along with driver skill, should be the main differential on the track. This is in contrast to Formula One, where aerodynamics development plays as much of a role in the constructors' championship as any other factor.
Opening up the series to manufacturing competition would also allow it to meet the conditions to be called a 'world championship' under the rules of the motorsport governing body, the FIA. Single-manufacturer series cannot be classed as world championships.
Agag expects that within three to five years, new developments in battery chemistry will allow batteries to last the entire race.
'We may decide because we like it to keep two cars with twice the amount of power and go much faster, we will see what makes a better show. I think probably a combination of both will happen,' he said. Wireless charging for cars is also on the cards, he added, with both static and dynamic technologies being discussed; dynamic would open the series to endurance-type racing.
Agag also indicated that next season might include more races than the current 10-race calendar. 'After Beijing we probably received requests from 40-50 cities all around the world to host races,' he said. 'Next year we will probably be in 12 cities, and we want to grow slowly to get to a figure of about 18 races per year.